Crimean prosecutor Natalia Poklonskaya said that she thanks Western countries for sanctions because it could make officials move to develop more tourist destinations in Russia, in an interview with the Russian daily Komsomolskaya Pravda which was published on Thursday.
Answering a question regarding whether she has felt any limits on her own life because of being subject to sanctions, Poklonskaya said that she hasn't. Poklonskaya also said that she herself has not gone on vacation since beginning work in 2014.
"Sanctions could be a stimulus for officials to develop tourism and resorts here more quickly and actively, make it more beautiful. This way they understand that they can't run somewhere else for a vacation, to distant islands, because of sanctions," Poklonskaya said.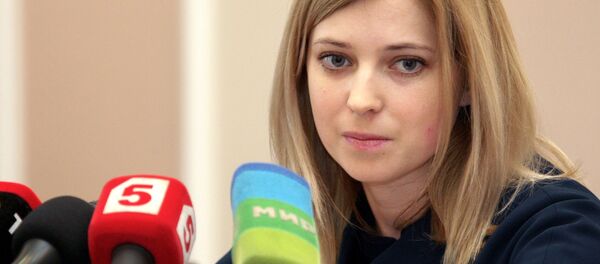 Poklonskaya also noted that rumors of ethnic and religious discrimination in Crimea were unfounded, as employment discrimination is essentially non-existent in her office, where one fourth of the Prosecutor's Office workers are Crimean Tatars. Crimean Tatars make up around 12.6 percent of Crimea's population, according to the 2014 census.
Poklonskaya added that she considers the situation in Crimea stable and that forecasts that the peninsula would be consumed in strife amounted to speculation.