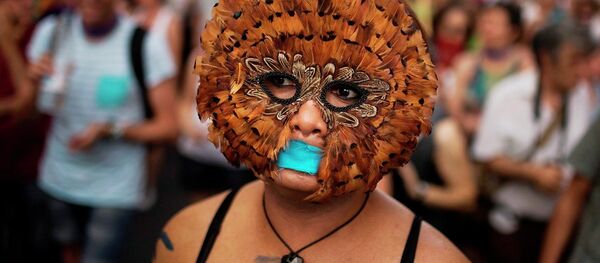 MONTEVIDEO (Sputnik) — Spain's Public Security Law, the so-called gag law, is undemocratic and must act as a warning for the rest of the world, especially Latin America, experts told Sputnik.
In late March, the Spanish Parliament approved the gag law, introducing high fines for unpermitted protests defined as a threat to national security, prohibiting video recording or photography of police and their activities and providing for harsh punishment for those deemed to be resisting arrest. The law became effective July 1.
"This repressive law is not only threatening freedom of expression, but it threatens all human rights, and should put the rest of the world on alert," stated Gloria Munoz, director of the Mexican Desinformemonos news website.
Munoz said that "it is a law designed for times of crisis," if governments think they must contain all forms of lawful protest and peaceful demonstration.
She stressed that the new law undermines "human solidarity" and is a continuation of "choking economic policies" currently implemented in a number of countries. Munoz added that similar legislation could be introduced in Latin American states where the "politics of a savage neoliberalism are being carrying out against social guarantees."
The Civil Association for Equality and Justice (ACIJ), dedicated to defending the rights of disadvantaged groups and the strengthening of democracy in Argentina, considers the Spanish law repressive and has labeled it undemocratic.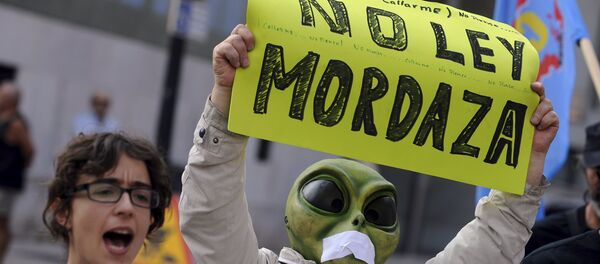 "Instead of suppressing protest, the state should encourage citizens participation and public debate, the key to the exercise of a real democracy. Suppressing freedom of expression is the worst way," Fernando Bracaccini, the ACIJ coordinator, told Sputnik.
The gag law includes fines of up to 600,000 euros ($659,000) for failing to register and receive permits prior to demonstration, marches or rallies within the country. The law, supported by Spanish right–wing and nationalist parties, is seen by representatives of socialist and left-wing parties as an attempt to turn Spain into a "police state."
The new measure is also condemned by a number of international NGOs, including Greenpeace and Amnesty International, the latter stating that the repressive legislation limits fundamental human rights and is an insult to individual liberty.
The ratification of the Spanish gag law has been met across Spain with numerous protests organized by social movements and left-wing parties. Greenpeace activists climbed a crane in front of the Congress building in Madrid on June 30 and displayed a banner saying "protests are our right," while activists on the ground carried posters that stated "sin mordazas," meaning "no gag."
In recent years Spain has witnessed a number of large rallies with citizens primarily protesting strict austerity measures which limit the social safety net in the country. The most recent widespread protest marches took place in over 80 Spanish cities in May.