BRUSSELS (Sputnik) — According to the source, European Council President Donald Tusk has just resumed the summit after a break for consultations. The Eurozone leaders are starting to discuss the proposals presented by the Eurogroup earlier on Sunday.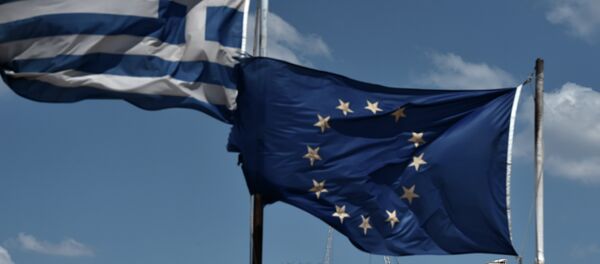 The source added that the idea of the Sunday eurozone summit remains to keep Greece from leaving the Eurozone.
Earlier on Sunday, RIA Novosti reported citing a draft Eurogroup agreement, that Eurozone finance ministers recommended the leaders of the European Union to propose Greece to temporarily exit the eurozone in case the sides fail to reach agreement on the Greek bailout program.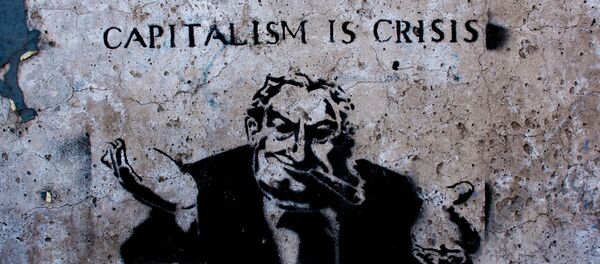 The source also said that all the proposals in the four-page-long document by Eurogroup, that were put in square brackets – such as the proposal on Greece's temporary exit from the eurozone and the proposal to transfer the revenues from privatization of Greek assets worth some $55 billion to a fund under Greek-EU management – have not been approved unanimously by all the 19 finance ministers.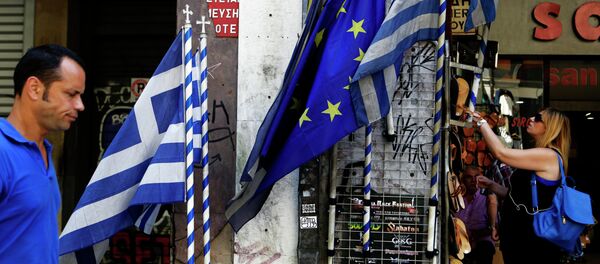 Greece is struggling to repay $270 billion it owes to the European Central Bank, the International Monetary Fund and eurozone countries.
On Thursday, the Greek government submitted a reforms plan, which includes significant spending cuts, to the creditors.
On Sunday, the eurozone finance ministers discussed whether the proposals by Athens are sufficient to start new round of talks on the Greek bailout. According to the leaked draft agreement, a new bailout for Greece could reach 86 billion euros ($96 billion).