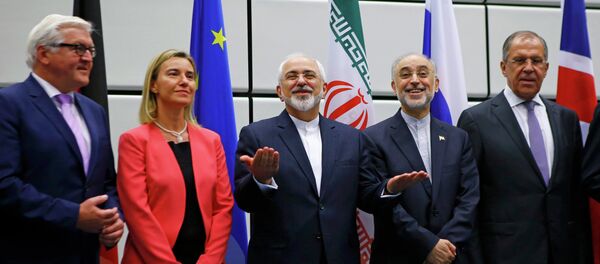 VIENNA (Sputnik) — The historic agreement was reached in Vienna on Tuesday after over two weeks of strenuous talks following several years of intermittent negotiations. It will limit Iran's nuclear work in exchange for the easing of international economic restrictions.
"It is an opportunity to strengthen and deepen relations between our two countries but there is also a chance for better economic cooperation," Kurz said to Sputnik on the heels of the breakthrough announcement in Vienna.
He emphasized that the lifting of sanctions imposed on Iran over the past decades meant more opportunities for Austrian business.
"There is a chance to boost cooperation after the end of sanctions. This agreement is the basis for ending the sanctions, and so there is a broad range of opportunities for Austrian companies," he told Sputnik.
Austrian President Heinz Fischer and Foreign Minister Sebastian Kurz plan to travel to the Iranian capital of Tehran in two months, following the agreement on Iran's nuclear program.