WASHINGTON (Sputnik) — US President Barack Obama told the New York Times he was encouraged by Russian President Vladimir Putin's phone call to discuss the situation in Syria.
"I was encouraged by the fact that Mr. Putin called me a couple of weeks ago and initiated the call to talk about Syria," Obama said Tuesday.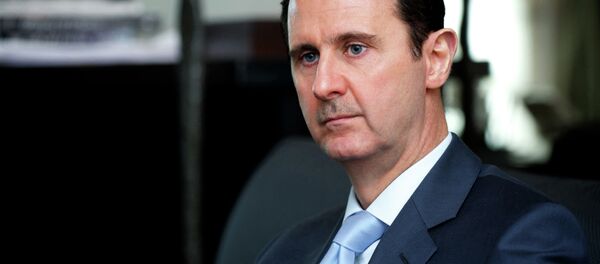 Obama suggested that Russian authorities have realized that "[Syrian President Bashar] Assad regime is losing a grip over greater and greater swaths of territory inside of Syria [to Sunni jihadist militias] and that the prospects for a [Sunni jihadist] takeover or rout of the Syrian regime is not imminent but becomes a greater and greater threat by the day."
"That offers us an opportunity to have a serious conversation with them," Obama added.
Syria has been in a state of a civil war since the 2011 anti-government uprising. The country's authorities are fighting a number of rebel groups, including Islamic State extremists.
According to UN estimates, the conflict has claimed some 220,000 lives. As of July 2015, at least 7.6 million people have been internally displaced by the war.
Since the beginning of the Syrian conflict, Moscow has been urging the warring sides to engage in a direct dialogue to find a peaceful solution to the conflict.
On January 26-29, Moscow hosted the first round of talks between the representatives of the Syrian government and a number of opposition groups since January 2014, when a UN-backed conference on the Syrian conflict in Geneva failed to yield significant results.
In early July, Moscow expressed readiness to host a third round of intra-Syrian talks. The date of the new round of consultations has not been determined yet.