DONETSK (Sputnik) — Kiev continues to build up arms on the front-line in Donbas and the reconnaissance of the self-proclaimed Donetsk People's Republic (DPR) continues to observe the movement of the Ukrainian equipment, DPR militia's deputy chief Eduard Basurin said at a briefing on Monday.
On July 18, DPR, along with Luhansk People's Republics (LPR), announced the unilateral withdrawal of heavy weapons to a distance of at least 1.9 miles from the line of contact with government troops. The withdrawal process began with the supervision of Organization of Security and Co-Operation in Europe monitors.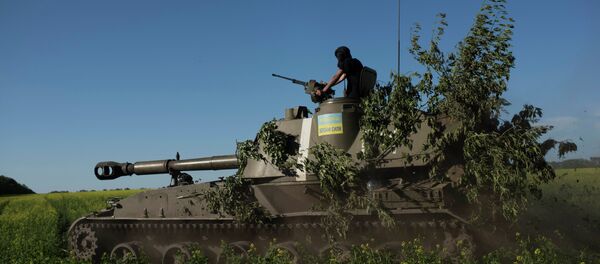 "Reconnaissance continues to fix the movement of machinery. We continue to tap technology unilaterally, as Ukraine continues to build up arms," Basurin said.
On Saturday, DPR envoy to the Ukraine reconciliation talks Denis Pushilin accused Kiev of continually making excuses to hinder an agreement to pull weapons with a caliber of more than 100mm from the line of contact in Donbas, a part of February peace deal.