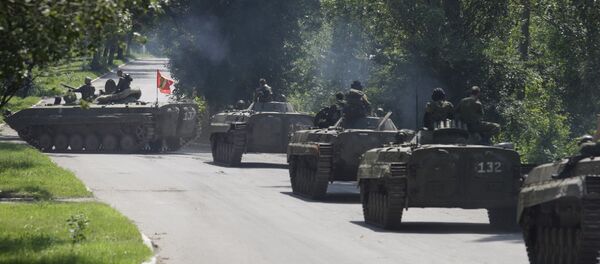 DONETSK (Sputnik) —The militias of the self-proclaimed Donetsk People's Republic (DPR) have completed the removal of armored vehicles with weapons with caliber less than 100mm from the line of contact, Donetsk news agency cited the DPR Defense Ministry as saying on Wednesday.
"The DPR completed the unilateral withdrawal of armored vehicles 3 kilometers away from the peaceful sections of the front line," the ministry said.
The ministry said that the tanks and armored vehicles would remain in the "hot spots" along the contact line, specifically the areas north of Donetsk and Debaltsevo.
On July 18, DPR, along with Luhansk People's Republic (LPR), announced the complete pullout of heavy weapons to a 1.9-mile minimum distance from the line of contact with government troops. The withdrawal process was launched with the supervision of Organization of Security and Co-operation in Europe (OSCE) monitors.
The withdrawal of heavy weapons with a caliber of over 100mm and the creation of an 18-mile buffer zone by both Kiev forces and Donbass independence supporters are among provisions of the Minsk ceasefire deal signed in February.
The Minsk peace accord is a set of 13 measures elaborated by the leaders of France, Germany, Ukraine and Russia and aimed at facilitating the Ukrainian peace process.