MOSCOW (Sputnik) – According to the Thursday release, Russian President Vladimir Putin, Ukrainian President Petro Poroshenko, French President Francois Hollande and German Chancellor Angela Merkel agreed during phone talks held earlier in the day "to find practical solutions, by August 3, for the withdrawal of Ukrainian troops and the installation of the OSCE Special Monitoring Mission."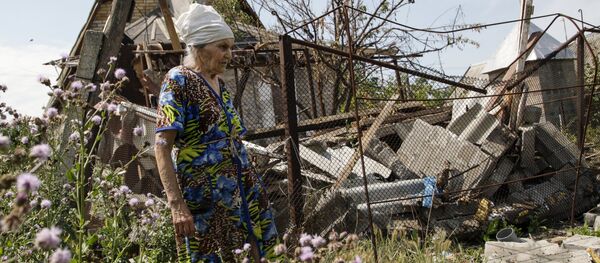 According to the Organization for Security and Co-operation in Europe (OSCE), the situation has been tense in the village of Shyrokyne (Shirokino), located in Ukraine's southeastern region of Donetsk.
Shyrokyne was considered neutral territory in the internal armed conflict that started in Ukraine's southeast in April, 2014, when Kiev launched a military operation against Donetsk and Lugansk independence supporters.
At the beginning of 2015 fighting in Ukraine's southeast intensified, with the Donetsk Airport and Shyrokyne being some of the hotspots of violence.
At the start of February, Shyrokyne was seized by Kiev forces.
In mid-February, Kiev and the self-proclaimed people's republics of Lugansk and Donetsk (LPR and DPR) signed a ceasefire agreement after Normandy Quartet talks in the Belarusian capital, Minsk. However, both sides have since repeatedly accused each other of violating the deal.
© AP Photo / Evgeniy Maloletka
An OSCE observer speaks via radio, in front of the sign saying Shyrokyne, near the village of Shyrokyne, eastern Ukraine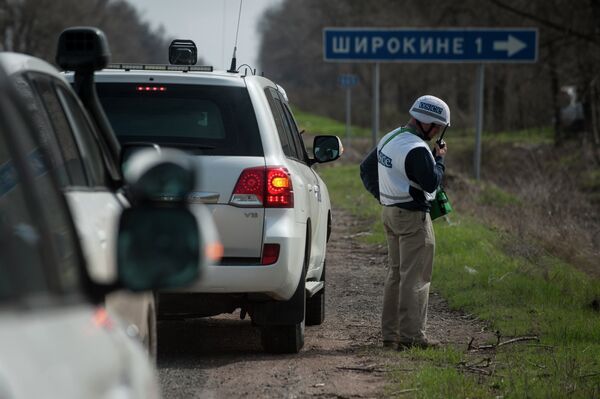 An OSCE observer speaks via radio, in front of the sign saying Shyrokyne, near the village of Shyrokyne, eastern Ukraine
© AP Photo / Evgeniy Maloletka