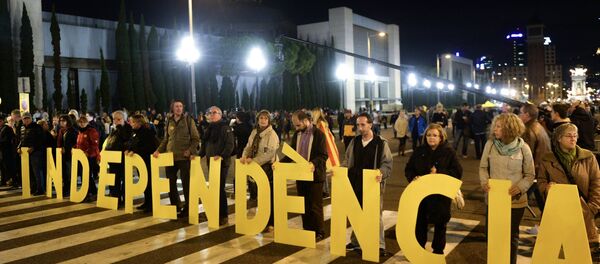 MOSCOW (Sputnik) — The left-wing Catalonia Yes We Can coalition offers an outdated political model for the region, a member of the Catalan parliament from the Popular Unity Candidates – Left-Wing Alternative (CUP-AE) party told Sputnik Friday, anticipating September regional elections.
The Catalonia Yes We Can coalition was formed earlier in July, by Podem — Catalan branch of the Spanish anti-austerity Podemos party, — Initiative for Catalonia Greens (ICV) and United and Alternative Left (EUiA) parties to stand at September elections.
The coalition proclaims Catalonia's right for self-determination, but, unlike its main rival, the Together for Yes coalition, has never specified whether it supports full independence from Spain.
"To propose a leftist coalition as the only alternative in the situation of Southern European nations losing sovereignty, interventions by Troika [of creditors,] government indebtedness and, thus, dependency of banks is an absolutely outdated scheme," Quim Arrufat said.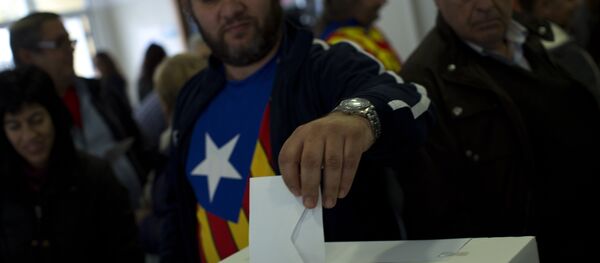 According to Arrufat, the Catalonia Yes We Can coalition has no traits of a truly popular or democratic movement and is planning to govern together with the Catalan Socialist Party (PSC) that has previously failed to demonstrate political innovation.
The lawmaker added that Catalonia needs independence because the region has "neither the political nor democratic sovereignty to govern itself."
On September 27 Catalonia will hold a regional parliamentary election. The campaign is unfolding amid growing independence sentiment.
The Together for Yes coalition, comprising Republican Left of Catalonia and the Democratic Convergence of Catalonia (CDC) — two major Catalan pro-independence parties — vowed to initiate a process to separate the Catalonia from Spain if it wins the September elections.