MOSCOW (Sputnik) — UK Prime Minister David Cameron said Wednesday he was very concerned about the migrant crisis in the French port of Calais, as numerous asylum seekers tried to enter Britain, and spoke in favor of putting in place extra security measures.
"There's no point trying to point fingers of blame, it's about working with the French, putting in place these additional security measures, adding in the investment where that's needed — Britain will always come forward with that," Cameron said, as quoted by the BBC, adding that he found the situation "very concerning."
Cameron's words come as 2,000 migrants tried to enter the United Kingdom by crossing the Channel Tunnel in Calais on Monday night, according to operator Eurotunnel.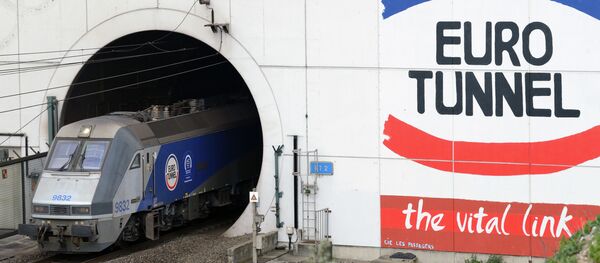 Following the incident, the UK Home Office announced that it would provide 7 million pounds ($10.9 million) to strengthen the Channel Tunnel security.
According to the French Interior Ministry, as many as 3,000 migrants are currently situated in Calais.
Calais saw several traffic disruptions earlier in July due to a strike by French ferry workers and regular attempts by undocumented migrants, housed at refugee camps near the port, to climb into cargo trucks and cross into the United Kingdom..