WASHINGTON (Sputnik) — Establishing a tribunal by the UN Security Council (UNSC) on last year's MH17 flight crash in eastern Ukraine before determining the guilty party would be premature and unusual, US activist group WarIsACrime.org co-founder David Swanson told Sputnik on Wednesday.
"It's unusual to set up such a tribunal to prosecute this type of crime or to prosecute any crime prior to the existence of any public evidence as to who might be guilty," Swanson stated.
Earlier on Wednesday, Russia vetoed a draft UN Security Council resolution on setting up an international tribunal to prosecute the perpetrators of Malaysia Airlines Flight MH17 crash in eastern Ukraine. A total of 11 out of 15 UNSC member-countries supported the draft introduced by Malaysia.
"Like everyone else, I'm in favor of prosecuting crimes, but why does the United States not make any evidence it has public? And why isn't the United Nations concerned that it is making itself look like a possible partner in war propaganda?" Swanson went on.
Russian Envoy to UN Vitaly Churkin said following the UN Security Council vote that Moscow is willing to continue efforts to assist an unbiased investigation of the crash.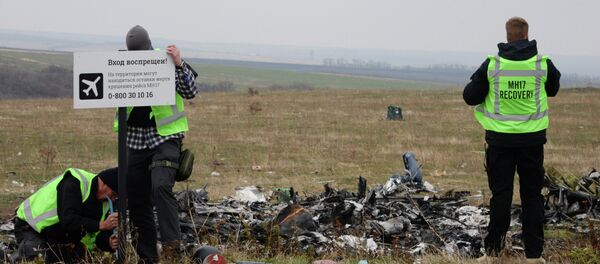 The Kremlin press service said earlier in the day that Russian President Vladimir Putin confirmed to Dutch Prime Minister Mark Rutte in a telephone conversation Moscow's unchanging position on the inexpediency of setting up a tribunal on the MH17 crash.
On July 17, 2014, Malaysia Airlines Flight MH17 crashed in Ukraine's eastern region of Donetsk en route from Amsterdam to Kuala Lumpur. All 298 people on board, mostly Dutch citizens, were killed.
Kiev authorities and Donbass militia, fighting in the region at the time of the cash, have blamed each other for the downing of the plane. The Dutch Safety Board was tasked with investigating the circumstances surrounding the accident.
Earlier in July, Malaysia submitted a draft resolution to the UN Security Council, proposing the establishment of an international tribunal to investigate and prosecute those responsible for the downing of the flight MH17. The initiative was backed by Australia, Belgium, the Netherlands and Ukraine.
Russia has submitted to the UN Security Council a draft resolution on the investigation of a Malaysian Boeing passenger aircraft crash, calling for higher involvement from the United Nations, earlier this month.
Moscow has repeatedly stressed that the tribunal initiative is premature and counterproductive. Russia insists that it is necessary to wait for the Dutch Safety Board to release their final report into the crash, expected to be unveiled in October 2015.