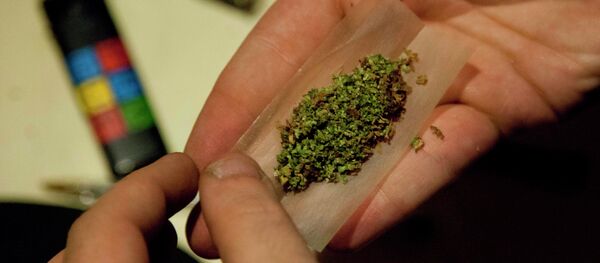 Trees Delivery already prides itself on its innovative marijuana sales packages. Branding its product as the "original craft cannabis box," the San Francisco-based startup offers three different types of pot boxes that customers can order via text or online — provided that they have a prescription of course.
Now the dispensary is trying to up its delivery services even more by bringing "Cannabis direct to your door," with the help of drones.
The company is currently awaiting Federal Aviation Administration (FAA) approval to begin the new delivery service, and according to CEO Marshall Hayner, once they have the greenlight they're ready to go.
"We have a fleet of three drones that have mechanical arms," he told Mashable. "We have tested them, we're ready, the only thing that holds us back is the FAA."
Trees Delivery even has a promotional video ready on its website showcasing the drone-delivered pot service.
"We see drones as an amazing tool for delivery," Hayner added. "A drone will never be late."
Amazon CEO Jeff Bezos first introduced the idea of delivering goods via drones in 2013, when he announced his company's plans for Prime Air. The online giant has been awaiting FAA approval since then, so it's likely that Tree Delivery will have to wait quite some time before they can launch the service.
However, unlike other products, weed may more easily lend itself to delivery via drones. Even in large quantities, marijuana is very light and can therefore be easily transported by small unmanned aircraft with minimal risk.
On the other hand, having marijuana carried around by automated drones, in a state where it is still illegal for recreational consumption, may pose other security risks. The drones could easily be knocked out of the sky and the weed stolen.
Despite the many obstacles, Hayner says the startup dispensary is the "most fun thing I've ever worked on." The company even wants to expand its business beyond San Francisco, with plans on delivering to other cities like Los Angeles and Denver.