The unrest that followed Brown's death, as well as the ones that erupted following the grand jury's decision not to indict the officer responsible, thrust police brutality and militarization into the global spotlight.
Activists, peaceful protesters and even journalists simply trying to cover the unrest were arrested, pepper sprayed, tear gassed, and threatened with rifles.
Myself included.
On October 8, I made my second or third trip to Missouri to cover the events of Ferguson October, a four-day event organized by activist groups from across the US to protest police brutality.  Shortly after I landed and checked into my hotel, I went to the police department to meet up with some activists who were out protesting.  They were out there every single day, rain or shine.  Whether it was 5 people or 100, they were there.
Soon after I arrived, everyone began receiving text messages that the St. Louis police had killed another teenager nearby.  It was VonDerrit Myers, and in a matter of seconds we were on our way to the scene.
I watched Myers' mother break down on the sidewalk. She had asthma, and the crowd that had gathered on the sidewalk began to try to help her.  The police refused to approach her.  Myers' grandmother was also there, crying.
After half an hour of this grieving woman lying on the sidewalk without help from the police, an ambulance finally arrived and took her and Myers' grandmother to the hospital.
The scene was quiet, somber, until the ambulance pulled away.  All of a sudden everything changed.  People began to rip down the crime scene tape.  They were so angry, and suddenly they felt empowered.  I watched people begin to chase police down the street.  Cop cars were smashed, officers were running away, frantically. For a moment, the people had all of the power.
Things eventually settled, and everyone who was not arrested went home.
The following night would be one of the most insane I have ever experienced.
When Everything Turned to Madness
At around 7 PM or so, activists began to gather at the scene of Myers' death once again.  This time, riot police were at the ready, and though the march was mostly peaceful, it seemed to me like the cops were out for vengeance over the night before, rather than genuinely attempting to protect the community.
Instead of going down the main streets, the march detoured through the fancy middle-class neighborhood bordering Myers' community.  Several flags were burned, but there was no major damage or violence.
But it was tense.  Eventually the police got ahead of the march and formed riot lines as they waited for us, banging their asps on their shin guards in unison as the crowd approached, as they always did.  Banging sounds still give me anxiety to this day.
A confrontation between a protester and a cop sparked the tinder, and everything turned to madness.  I was pepper sprayed for taking a video with my phone, though no audible dispersal order had yet been issued.
People were arrested left and right.  Livestreamers were being pepper sprayed repeatedly as if they were being targeted.  It was chaos.
Everything Was Silent — Until it Wasn't
The following month, the grand jury would decide not to indict Officer Wilson.  After nearly three weeks of waiting, journalists and activists huddled around a loudspeaker outside the police department to hear the announcement.
Tears flowed, and everything was silent — until it wasn't.
Someone began to throw bottles at the line of riot police outside the department, and all of a sudden the cops charged forward.  I ran to the right, and encountered a police vehicle that was on fire.  The sound of gun shots filled the air — the live ammo in the police vehicle exploding from the heat.
I got separated from the people I knew, and so I began to wander the other way down the street.  Buildings were burning, smashed, looted, a gas station was ablaze. But the police were no where to be found.  The cops and National Guard troops were all stationed firmly in front of the police department, repeatedly tear gassing the media and peaceful protesters, and no apparent attempts were made to stop the fires.
I was hit with tear gas somewhere around 21 times that week, though I eventually lost count.  The smoke and gas I inhaled left me with bloody noses and coughing up blood for months to come, like many of the others who were there.
I was not participating in the protests as an activist. I was simply there to help document them, and to report for the website I was working for at the time.
A Year On
Now, Ferguson prepares to mark a year since the death at police hands of Michael Brown, just one of thousands of young men who've suffered his same fate in recent years. Scheduled events, many of which were personally organized by Brown's father, are expected to be attended by activists, religious leaders, and community organizers from all over the country.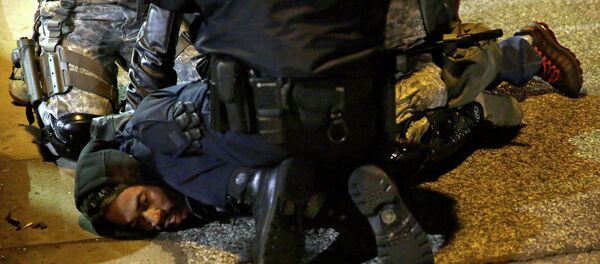 Planned actions include marches, concerts, and a moment of silence on Sunday, held on the street where Brown was killed, where his body was left in the street for over four hours, on August 9, 2014.
If last year is indicative of what is to come, there will also be many spontaneous and pop up actions, which activists say are designed to keep the police on their toes.  By running around the city and amassing for protests at unplanned locations, demonstrators can keep law enforcement  more spread out — and a step behind the activists.
"I'm expecting hundreds if not thousands of people," Tommie Pierson Sr., pastor of the Greater St. Mark Family Church, where a service honoring Brown is scheduled for this weekend, told Yahoo! News. "We are not anticipating any violence. However, you have to always be prepared."
The church has been holding deescalation seminars to teach the community tactics to defuse situations when the police come in aggressively.
So far, no groups have openly called for violence or rioting.
"He (Brown) was one, but not the first one, to be murdered by policing authorities and obviously he wasn't the last," Montague Simmons, chairman of the Organization for Black Struggle, told Yahoo!. "People want to see something different. They want safety to mean something different."

According to killedbypolice.net, Brown was the 666th person killed by US police in 2014. Before December 31, another 441 — that we know of — would fall at the hands of law enforcement.
So far this year, 669 people have suffered the same fate.
That means that, since the day Brown was shot dead, 1,110 people have died at the hands of US law enforcement.
That we know of.