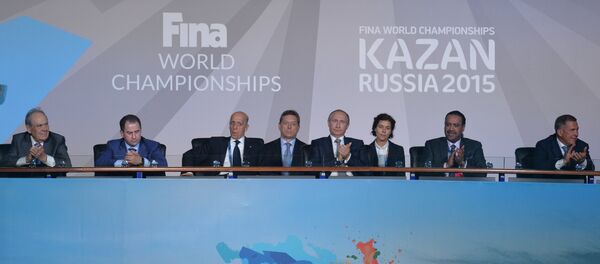 KAZAN (Sputnik)
–
WorldSkills, a world championship competition of professional skills, will be held in Russia's Kazan in 2019, the press service of the president of the Tatarstan republic said Tuesday.
The location choice was made at the WorldSkills general assembly in Sao Paulo, Brazil.
During the Kazan presentation in Sao Paolo, Tatarstan's acting president Rustam Minnikhanov pledged financial support to would-be participants in the competition. "Not every country has enough resources to take part in such events," he said. "Therefore, we are ready to assist financially all those who want to participate in the WorldSkills 2019 in Kazan".
WorldSkills International is a non-profit organization created in 1946 to improve the level of professional training and raise pay standards for manual labor qualifications worldwide.
The organization holds skills competitions in different member countries biannually.
Competitors aged 18 to 25 demonstrate their skills in a wide range of professions including car painting, hairdressing, cooking, welding, bricklaying and carpentry among others.
Russia joined the organization in 2012.
In 2014, Russian Prime Minister Dmitry Medvedev said that hosting the competition in Russia would increase the social status of blue-collar workers in the country.