The Russian company Tetis Pro is set to deliver five advanced Marlin-350 remote controlled unmanned submersibles to the Russian Navy by 2016.
The vehicles are set to substitute British-made Tiger remote-controlled vehicles, which are used for search and rescue underwater operations.
"We have planned to deliver five vehicles in 2016. Similar craft are already in the draft of the state order for 2017," Director General of Tetis Pro, Alexei Kaifadzhyan, told RIA Novosti on Wednesday.
Kaifadzhyan added that this year Marlin-350 has already successfully completed a state trial program and is scheduled to be phased in the Russian Navy as early as in September this year.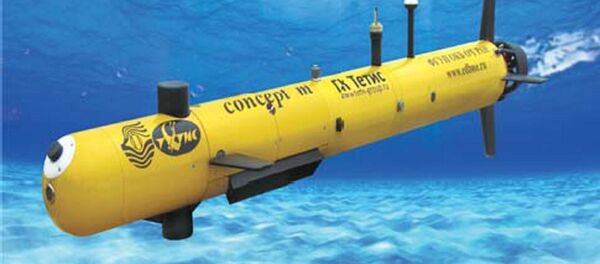 12 August 2015, 06:30 GMT
Earlier in the day Kaifadzhyan said that another submersible, the first Russian autonomous Concept-M search and research vehicle capable of diving to depths of 1,000 meters (approximately 3,280 feet) has been developed and is about to go into mass production.
The Concept-M, in its turn, is set to replace the Islandic Gavia submersibles that are currently being used by the Russian Defense Ministry for deep-water surveying.
The Marlin-350 is an unmanned remotely operated vehicle (ROV), which is designed to monitor protected areas, search and detect intruders in the area under control, and carry out other tasks related to the prevention of unnoticeable penetration into the protected facility.
Its components include: an underwater vehicle comprising four horizontal engines installed as per a vector diagram and two vertical engines. It is equipped with a heading and depth stabilization system, a single-level "grab" device, two analog video cameras and two LED lights.
The surface module comprises a standard 13U rack, the ROV power insulation monitoring unit, three monitors to display video and hydro-acoustic information, a vehicle power supply unit, a digital recording unit and a built-in computer.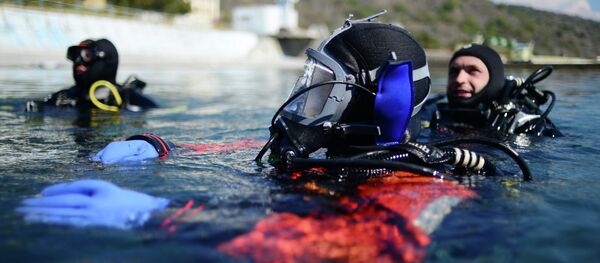 12 August 2015, 09:24 GMT
It also includes a hand winch with an aluminum frame and drum, an optic electric cable (450 m), a fiber optic rotary junction and an electric rotary collector, as well as a handheld control panel.
Its operating depth is up to 350 meters.
The manufacturer, Tetis Pro, is the largest Russian company specializing in the design, construction, delivery and supply of a comprehensive range of diving and subsea equipment for commercial, military, search and rescue diving.