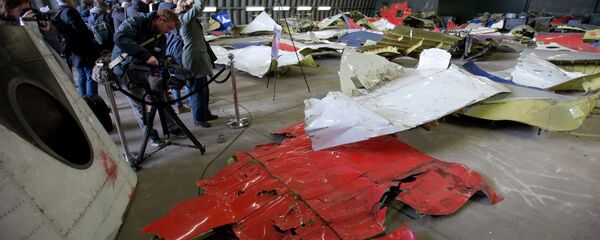 10 August 2015, 11:23 GMT
A Freedom of Information request for information about the aftermath of the July 2014 Malaysian Airlines Boeing-777 air disaster in Donetsk was refused by the Dutch government, on the grounds that confidentiality is more important, the Dutch television news service
RTL Nieuws reported on Wednesday
.
The news program reported that Minister for Security and Justice Ard Van der Steur replied to the request by saying:
"The simple fact that your Freedom of Information request relates to information about the handling of the MH17 disaster does not give extra weight to the importance of public access." 
In October 2014 RTL Nieuws asked for the disclosure of documents from the cabinet's ministerial crisis committee, and from the civil service crisis teams dealing with the disaster. In February of this year some redacted documents were released, in response to the request.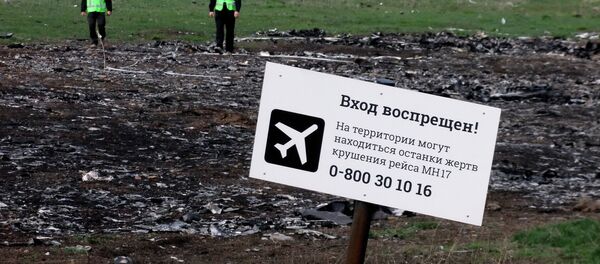 11 August 2015, 17:51 GMT
The disclosure of further documents was refused by the government, on the grounds that the documents were intended for internal consultation, and contain the personal views of officials and politicians, the release of which could adversely affect the Netherlands' international relations.
In the subsequent objection procedure, RTL Nieuws argued that more documents should be made public, particularly reports of the decisions taken by the ministerial crisis committee, in order to reconstruct the actions of the government in the aftermath of the disaster.
Minister Van der Steur wrote that that request was refused, because the release of information on the decisions of the crisis committee would be "interwoven" with the opinions of officials and politicians.
"For that reason, disclosure of factual information is also refused." 
RTL Nieuws called the decision "very disappointing."
"We find it unbelievable that the minister is not trying his best to make more information public. Naturally, we understand that not everything can be put into the public domain. But to keep back facts and decisions?" said RTL Nieuws deputy editor Peter Klein.
"We are going to study this decision and see whether there are grounds to pursue the request in court."
"We believe that all aspects of the political and administrative handling of the disaster must be reconstructed," Klein said.
Malaysia Airlines Flight MH17 crashed in Ukraine's southeastern Donetsk region on July 17, 2014, when it was on its way from Amsterdam to Kuala Lumpur. 
All 298 people on board were killed in the disaster, 196 of whom were Dutch citizens.