DONETSK (Sputnik) — The authorities of the self-proclaimed Donetsk People's Republic (DPR) will raise the question of the Minsk agreements' violation at a meeting of the Contact Group on Ukrainian reconciliation talks on August 26, the DPR's negotiator in Minsk talks, Denis Pushilin said.
"We are sending a list of Kiev's numerous violations of the Minsk-2 agreement to the Organization for Security and Co-operation (OSCE) in Europe every day. They will also be emphasized at the meeting of the Contact Group in Minsk on August 26", Pushilin was quoted as saying by the Donetsk news agency on Sunday.
Pushilin added that "without signing an agreement on withdrawal of the military equipment with caliber less than 100 millimeters from the line of demarcation, we'll just keep filling up the OSCE reports with new facts about Ukraine's violations of the Minsk agreements."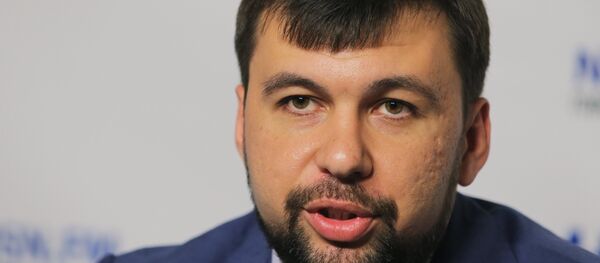 15 August 2015, 22:00 GMT
On August 4, Pushilin and Lugansk People's Republic (LPR) negotiator Vladislav Deinego said that the situation with the pullout of weapons with caliber less than 100-mm has been brought to a deadlock by Ukraine. Deinego said that the Contact Group on Ukrainian reconciliation's security subgroup will submit the text of the agreement to the Contact Group on August 26, and that there will be two editions of the text since the two sides did not manage to reach consensus on the issue.
The leaders of Russia, France, Germany and Ukraine signed the agreement to pull back the weapons with the caliber less than 100mm last month. The deal also establishes a nearly 19-mile demilitarized zone at the contact line separating Kiev-led forces and Donbass militia in Ukraine's southeast.
Following the signing, Ukrainian President Petro Poroshenko said the agreement between the warring sides would be signed by August 3 and implemented within 10 days.
A source in the talks on the weaponry withdrawal has said that Kiev refused to withdraw weaponry from four specific areas, while militias demanded withdrawal along the whole contact line.
In February, the heads of Russia, France, Germany and Ukraine signed an agreement in Minsk on Ukrainian reconciliation, stipulating withdrawal of artillery and ceasefire. However, the warring sides have since repeatedly accused each other of violating the truce.