BERLIN (Sputnik) — The German chancellor said that the meeting was aimed at supporting the Minsk agreements, which are the basis for Ukrainian crisis settlement.
"We met to support Minsk-2, not to put it in doubt," German Chancellor Angela Merkel said at a news briefing following talks with the presidents of France and Ukraine.
Merkel said that the participants of the meeting in Berlin would inform Russian President Vladimir Putin about results of talks either by phone or in person.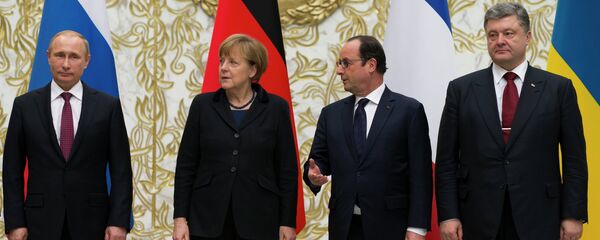 24 August 2015, 13:52 GMT
The German Chancellor added that the sides would hold additional consultations with Russia on ensuring the work of the OSCE monitors in Ukraine since their presence there was "Alpha and Omega of a successful settlement" of the Ukrainian crisis.
The Minsk agreements still are not fully implemented, French President Francois Hollande said at the news briefing.
"Now, for us there is only one rule – respect of the Minsk agreements. In regard to the ceasefire, they are still not fully observed," Hollande said.
New meetings, including those in the Normandy format are needed to resolve the Ukrainian crisis, the French president added.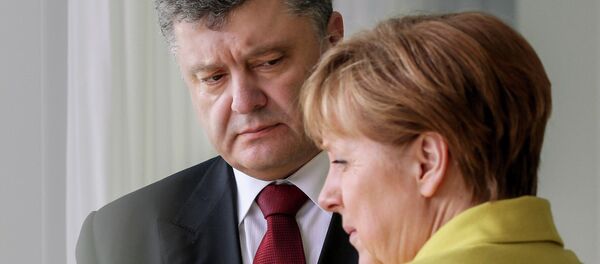 21 August 2015, 16:56 GMT
The Normandy Quartet — comprising Germany, France, Russia and Ukraine — has been making efforts to secure a peaceful settlement to the conflict in Donbass, which has claimed more than 6,800 lives since it had started in April 2014, according to UN estimates.
In February 2015, the quartet worked out a ceasefire deal in Minsk, later signed by Kiev and the Donbass self-proclaimed republics. The agreement stipulated an immediate ceasefire, heavy weaponry withdrawal from the line of contact in Donbass, and increased autonomy for the Lugansk and Donetsk regions.
Under the deal, the OSCE has been put in charge of monitoring the situation in the country, which remains tense, as both Kiev and Donbass forces continue to accuse each other of violating the ceasefire.