MOSCOW (Sputnik) — The US entry visa restrictions made the visit of the speaker of Russia's upper house of parliament, Valentina Matvienko, to attend the Fourth World Conference of Speakers of Parliament at the United Nations' Headquarters in New York impossible, the Russian Foreign Ministry said in a statement on Wednesday.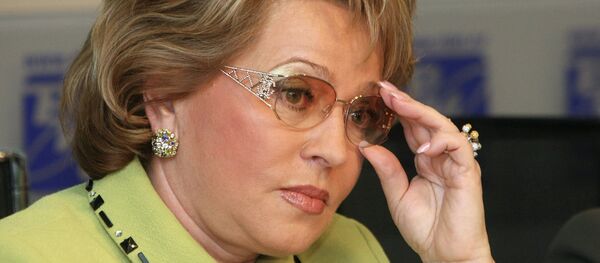 25 August 2015, 09:21 GMT
"Issued after long delays, the visa contains a number of unacceptable restrictions on Valentina Matvienko's stay in the United States," the statement read.
The ministry added that in these circumstances the visit of the delegation of Russian legislators led by Valentina Matvienko to New York was impossible.
"Such actions of the US authorities are totally unacceptable. They constitute a flagrant violation of universally accepted norms of international law, and are contrary to the obligations of states receiving multilateral forums on their territory," the ministry stressed.
Earlier reports indicated that Matvienko, who is included in the US sanctions list, could possibly be denied a US visa despite an invitation to attend an international conference, scheduled to be held on August 31 – September 2.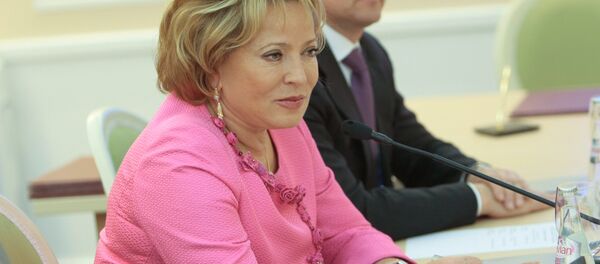 Since 2014, the European Union, the United States and a number of other countries have imposed several rounds of anti-Russia sanctions, including entry bans on certain Russian individuals.
Western countries have accused the Kremlin of meddling in Ukraine's internal affairs, while Moscow has consistently denied the allegations.
On July 1, Finland denied entry visas to a group of Russian lawmakers on an EU sanctions blacklist, including the speaker of Russia's lower house of parliament, Sergei Naryshkin. Russian President Vladimir Putin condemned the move, saying that it had no legal basis.