MOSCOW (Sputnik) – Hundreds of people staged an anti-smuggling protest in a northwestern Libyan town after up to 200 bodies were recovered from a sunken boat off its coast, a Doctors Without Borders (MSF) representative said Friday.
Libyan coast guard vessels continue to recover corpses after two boats, carrying a combined total of 450 passengers, sank off the coast of Zuwara earlier this week. A Red Crescent official said 198 people have been saved, while the remaining 100 people are still missing.
"Most of the town came out and demonstrated," MSF's Mohsen Ftis told The Guardian newspaper, recalling the protesters' anger.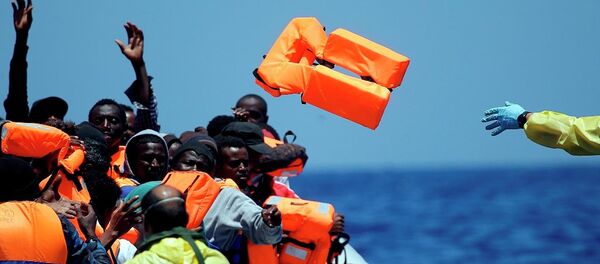 28 August 2015, 09:06 GMT
Libya serves as a departure point for many migrants from the Middle East, North and Sub-Saharan Africa, fleeing crisis-stricken and impoverished homelands to cross the Mediterranean Sea in the hope of gaining refuge in Europe.
The practice of smuggling migrants continues in the town due to the absence of law and order and apathy on the part of the local population, many of whom see it as a valuable source of income.
Similar anti-smuggling protests were staged in the coastal town in the summer of 2014 after bodies washed up on its shore.
The UN Refugee Agency said 2,500 people have died while attempting to cross the Mediterranean this year. The UN estimates that there were 310,000 successful boat crossings in the first eight months of 2015 using this route, compared to 219,000 during the whole of last year.