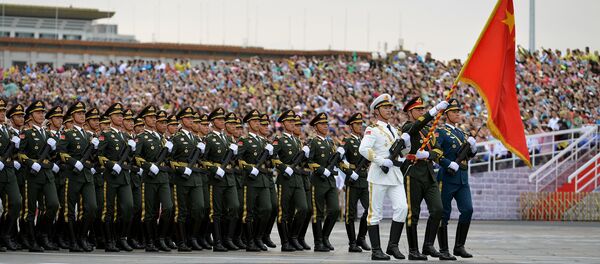 27 August 2015, 15:38 GMT
Xinhua's commentary comes ahead of Beijing's September 3 commemorations marking the end of WWII, and what it calls the "Chinese People's War of Resistance against Japanese Aggression and the World Anti-Fascist War."
The editorial, titled "Who should apologize for the crimes of Japan's war aggression?" was published on August 25, and calls for the Japanese Emperor to atone for his country's past crimes.
The comment was in reference to Japan's invasion of China in 1937 and it subsequent brutal rule of parts of the country until the end of WWII in 1945. Millions of Chinese civilians were killed at the time, according to both Beijing and Western historians.
The dark chapter of history continues to mar Japanese-Sino relations, which have been further strained by territorial disputes between the two nations. According to Xinhua's commentary, Japanese Emperor Akihito should apologize to the countries victimized under his father, Hirohito's, rule.

24 August 2015, 14:24 GMT
"Emperor Showa [Hirohito] never expressed an apology to the victimized nations [in WWII] and their peoples," Xinhua said. "His successor [Akihito] must apologize to achieve better diplomatic relations and express remorse to gain trust."
Xinhua's commentary was met with anger by Japanese officials, who accuse the news agency, and by extension, Beijing, of harming relations between the two countries.
On Thursday, both the Japanese Foreign Ministry Bureau Chief and minister of the country's embassy in Beijing lodged two separate protests with the Chinese government by telephone.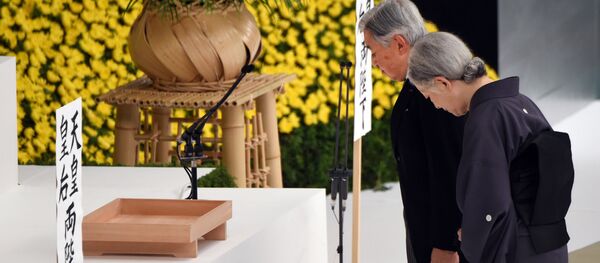 15 August 2015, 11:53 GMT
"We protested because it was issued by a state-run news agency and it discussed a matter far too big to ignore," a foreign ministry official told reporters.
Chief government spokesman Yoshihide Suga said Xinhua's editorial "is seriously discourteous to his imperial majesty, and not in line with China's official position."
"It is utterly unfavorable as it could throw cold water on the relationship between Japan and China which is on the recovery path."
Meetings between Japanese Prime Minister Shinzo Abe and Chinese President Xi Jinping in April and November have seen a slight improvement in relations between the two countries, which are currently locked in a heated territorial dispute over the East China Sea.