31 August 2015, 10:27 GMT
KIEV (Sputnik) — Ukrainian police released overnight 13 of the 31 suspects arrested over the deadly clashes outside the parliament in Kiev, Ukraine's Interior Ministry adviser Zoryan Shkiryak said early Tuesday.
Clashes between nationalists and riot police erupted Monday after lawmakers backed in the first reading a bill that would provide for the decentralization of the country. One police officer died from wounds he sustained when a grenade went off in the crowd, injuring over a hundred others.
In a Facebook posting, Shkiryak said that 18 people remained in police custody, including the protester who allegedly threw the grenade. According to the adviser, the man behind the explosion served in a volunteer battalion.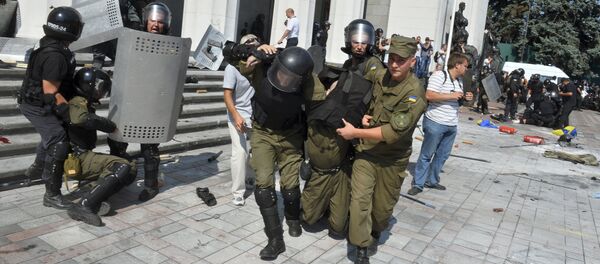 31 August 2015, 22:08 GMT
The rest were released, pending an investigation. "All materials are being analyzed and gathered. The death of the National Guard member and the wounds inflicted on almost 130 officers will not go unpunished," he vowed.
Earlier on Monday, Ukraine's Interior Minister Arsen Avakov promised a thorough investigation behind the causes of the unrest.
Ukrainian authorities agreed to give greater autonomy to Donetsk and Lugansk regions in the country's southeast as part of their peace deal with local militias. Under the Minsk peace agreement, reforms to the Ukrainian constitution are to be passed before the end of 2015.