"I have a visa so I can come to Russia whenever I want to. I never thought about Russian citizenship before. I should talk to lawyers to see whether I could have two passports – Russian and Canadian," the artist commented on the issue of Western sports and music celebrities receiving Russian citizenship.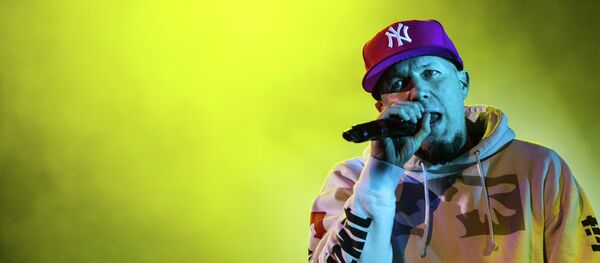 1 September 2015, 17:57 GMT
The 30-year-old Canadian said he has been a frequent visitor to Russia, especially to Moscow, St. Petersburg and Sochi.
Better known for his corpse tattoo covering the majority of his body, Genest is also a fashion model and moonlights as an actor.
This time, Zombie Boy came to Russia to take part in a major tattoo festival in Moscow.
The artist revealed that he likes Moscow's nightlife and parties as well as the Russian climate. The climate in his native Canada is much colder, he added.
Zombie Boy is not the first foreign celebrity who has expressed a desire to live in Russia.
Last month, famous US boxer champion Roy Jones Jr. visited Crimea and announced his willingness to attain Russian citizenship.
Recently, Fred Durst, lead singer for US nu-metal band Limp Bizkit, said he plans to buy a house in Russia and become a Russian citizen.
In 2013, legendary French actor Gerard Depardieu was granted Russian citizenship by President Vladimir Putin.