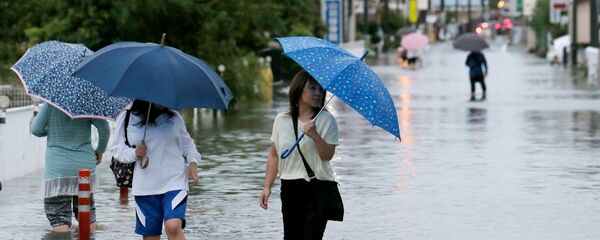 14 September 2015, 01:32 GMT
Mount Aso, the largest volcano in Japan and one of the country's most active, erupted on Monday; tourists and local people living in the vicinity fled to safety without any reports of injuries.
The volcano is located on Japan's main southern island of Kyushu, approximately 850 kilometers southwest of Tokyo. The area around the 1,592 meter volcano is a popular destination for hikers and climbers.
Japan's Meteorological Agency issued a warning shortly after the volcano erupted at 9:43am, in order to speed the evacuation of people from the area. Local media reported that the eruption blasted a plume of smoke 2 kilometers into the air, and ash fell as far as four kilometers away. 
Japan is on the western edge of a string of fault lines that run around the Pacific Ocean, named the 'Ring of Fire.' As a result, it has over 100 active volcanos, 47 volcanos of which are monitored especially closely. 
Mount Aso, the largest active volcano in the country, previously erupted in April. Before that it erupted in November 2014, for the first time for 21 years.