BUDAPEST (Sputnik) — The emergency situation, introduced in separate Hungarian regions due to the influx of refugees, should be expanded to a national level, parliamentary leader of the ruling Hungarian Fidesz party, Antal Rogan, said Tuesday.
"Nationwide state of crisis should be declared as soon as possible," Rogan said on the local Kossuth radio.
The possibility of introducing a crisis situation is provided for in a new package of border laws, which came into force on Tuesday. The state of crisis allows police to inspect premises and vehicles without warrants.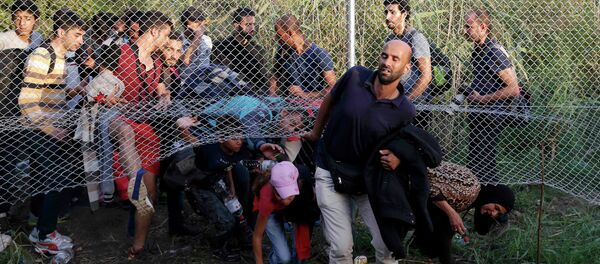 15 September 2015, 09:59 GMT
The new legislation also stipulates three-year terms for illegal border crossings and up to five years for damaging state border facilities, including the recently constructed fence along the Hungarian-Serbian border. Many migrants have been entering the country through holes in the fence.
Hungary is being used as a gateway to wealthier EU countries by thousands of migrants. As a result, the country is experiencing an unprecedented influx of undocumented immigrants.
Budapest estimates that over 190,000 migrants have illegally entered the country since the beginning of 2015.