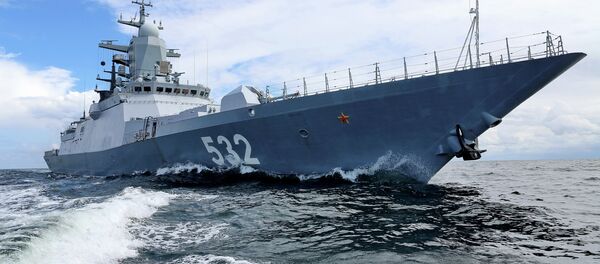 4 September 2015, 14:45 GMT
MOSCOW (Sputnik) — The area was secured by some 15 warships and support vessels making a sea passage from home stations in Russia's southern Republic of Dagestan and the Astrakhan Region.
The Center-2015 strategic exercises, running September 14-20, involve around 95,000 troops and some 7,000 pieces of military equipment. As many as 20 warships are expected to participate in the exercises.
"As part of the active stage of the command-and-staff strategic exercise Center-2015, the Caspian flotilla's tactical group comprising the Grad Sviyazhsk and the Veliky Ustyug missile corvettes successfully practiced a joint missile firing from shipborne missile systems at sea targets in the designated area of the Caspian Sea," Rear Adm. Viktor Kochemazov said.