BELGRADE (Sputnik) — Some 100 migrants, who were denied entry to the territory of Austria at the border with Slovenia, managed to run past the Austrian police, Croatian newspaper Jutarnji list reported.
The closure of the Serbian-Hungarian border and the penalties introduced on Tuesday by the Hungarian government for border infringements have prompted thousands of migrants coming from Serbia to reroute through Croatia and Slovenia, in their journey to more affluent EU states.
"We were not able to detain them because they moved as a crowd," the media cited a police representative as saying on Sunday.
According to the media, the police representative noted that the number of law enforcement officers at the border in the town of Spielfeld was not sufficient to stop the undocumented migrants from entering Austrian territory.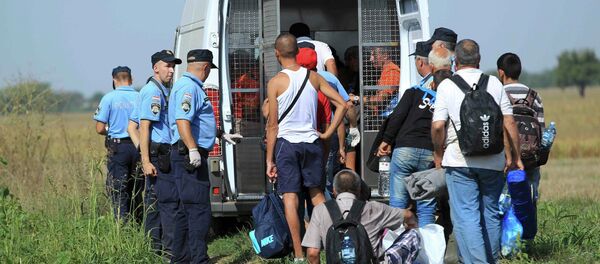 18 September 2015, 01:24 GMT
The migrants were reportedly denied entry to the country as they did not present any documents or demand asylum.
According to the media, around 700 migrants have also been moving towards the Austrian border from Slovenia, while the total amount of migrants which arrived in Austria through Hungary and Slovenia in the past two days may have reached 20,000.
Earlier this week, Austria and Slovenia introduced controls on their border with Hungary in a bid to control the flow of migrants amid the major migrant crisis unraveling in Europe.