The former candidate from Poland's center-left Democratic Left Alliance, Ogorek emphasized that in a time of strained relations between the two nations, she wholeheartedly supports dialogue to work through differences and to find areas of agreement.
"I am a proponent of dialogue. This was in my election campaign. If you talk to one another, it is possible to solve problems," Ogorek explained. She added that during the campaign, the topic of normalization of relations with Russia was of tremendous interest to voters.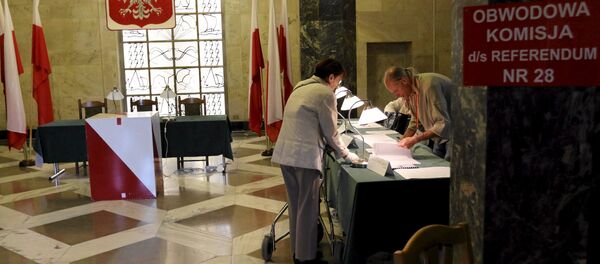 8 September 2015, 11:24 GMT
Asked whether the Russians and the Poles are doomed to be enemies, Ogorek emphasized that "this is not true. In the course of the election campaign, nowhere in Poland was I confronted with anti-Russian sentiment. Poles are not Russophobes. Of course, geopolitics plays a big role, but we are neighbors, even if just via the Kaliningrad region, and therefore we must normalize our relations."
Noting that differences of position continue to exist, for example on Crimea, the politician emphasized that "this does not mean that we cannot speak on other issues, where we can find something in common. The election campaign showed that Poles want to see their president not just in Washington, Berlin and Brussels, but also in Moscow. I for one understand that it's possible not to agree with Vladimir Putin, but we must still talk. This is the only way to solving problems. And now the situation in Poland is changing, especially considering the migrant crisis."
The politician noted that terrorism, "a common European problem," could serve as an important "platform for discussion" between Warsaw and Moscow.
Ogorek expressed her worry that the EU is now witness to "terrible scenes on the borders of Serbia and Hungary…We are at a point where the Schengen zone is simply splitting at the seams." The politician warned that the security implications alone are frightening. 
Best known in Poland as a former television presenter, Ogorek, a former civil servant who also has a doctorate in the humanities, told Vesti that she got interested in politics because "when I was working on television, I could only do a program about politics, and not to make policy myself. When I presented my candidacy, I could offer a program to actually change policy in Poland."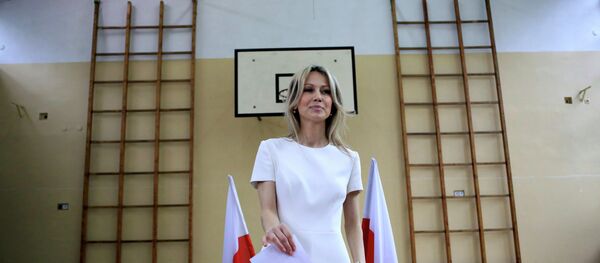 At May's presidential elections, Ogorek garnered just over 2 percent of the vote, with conservative-leaning candidates Bronislaw Komorowski (the incumbent) and Andrzej Duda (who won the second round and ultimately became president) grabbing nearly 70 percent of the votes cast, while right-wing populist Pawel Kukiz took another 21 percent. Eight other candidates finished in the low single digits.
During the campaign, Ogorek railed against tough talk by a number of Polish officials, including the president, saying that they "fueled mutual dislike." She proposed that Poland stop rattling "a sabre at a nuclear power," called for the lifting of sanctions and stepped out against Poland's military involvement in Ukraine in any way, shape, or form.
Next month, Poland will hold elections for both the lower and upper houses of parliament. In July, in response to a poor showing at the presidential elections, the Democratic Left Alliance joined together with other center-left parties to create the United Left electoral bloc. The United Left is backed by the powerful All-Poland Alliance of Trade Unions. The party is presently polling between 5-10 percent support, with the conservative incumbent Civic Platform and conservative challenger Law and Justice again expected to split a majority between the two of them.