There is something sinister about the Japanese government's optimistic claims that the notorious Fukushima Prefecture is largely safe for habitation, Los-Angeles based climate journalist Robert Hunziker notes, warning that scientific data published by third-party NGOs shows otherwise.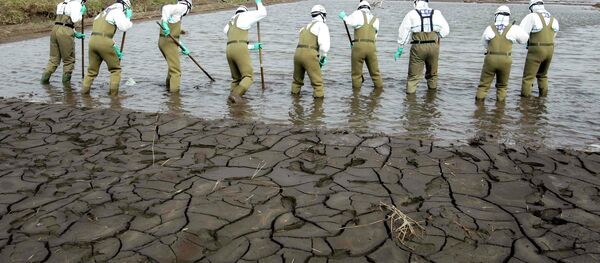 20 August 2015, 18:29 GMT
"The immediate direct exposure of radiation over population centers at Chernobyl was significantly more than Fukushima, where 80% drifted out into the Pacific Ocean. However, that may be slight solace because, horrifyingly, nobody knows where the Fukushima melted cores are located; it's absolutely true, nobody knows whether the molten cores are within the containment vessels, outside of the vessels, deep in the ground, or cataclysmically traversing towards the water table," Hunziker elaborated in his article for CounterPunch.
Meanwhile, Japan's Prime Minister Abe's government is encouraging people to move back into former restricted zones, claiming that "a whole lot of the mess outside of the immediate meltdown" has already been cleaned up.
Alas, it's nearly impossible to give such an optimistic signal, since the Fukushima contamination still remains out of control, the journalist emphasized.
Citing nuclear expert Eben Harrell, the journalist underscored that some of the isotopes released during a nuclear catastrophe remain radioactive for tens of thousands of years. Remarkably, when asked in 2011 when the Chernobyl site would be inhabitable again, Igor Gramotkin, General Director of the Chernobyl Nuclear Power Plant, answered laconically: "At least 20,000 years."
"One of the issues in trying to assess the dangers, as well as timing of recovery, for Fukushima is believability. Who can be trusted? In that regard, the Abe government's enactment of strict extraordinarily broad secrecy laws, similar to WWII, with the threat of prison sentences up to 10 years for any violators of indeterminately wide-open secrecy laws undermines confidence in believability of the Japanese government, by definition," Hunziker pointed out.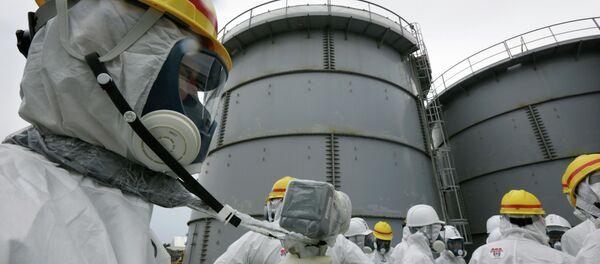 2 September 2015, 19:30 GMT
The journalist called attention to the latest radiation survey carried out by Greenpeace Japan, that has indicated that the Japanese government plans to move people to the areas where they could receive radiation doses of up to 20mSV annually for many years to come.
According to international radiation protection standards, the recommended public exposure limit should not exceed 1mSv/year or less in non-post accidental situations.
"The radiation limit that excluded people from living in the 30km zone around the Chernobyl nuclear plant exclusion zone was set at 5mSV/year, five years after the nuclear accident. Over 100,000 people were evacuated from within the zone and will never return," Greenpeace Japan's report read.
The question arises why the Japanese government turns a blind eye to the fact that Fukushima residents would be exposed to 20mSV/year of radiation regardless of international norms and practices.
"Continued exposure to low-level radiation, entering the human body on a daily basis through food intake, is of particular consequence," The Green Cross International 2015 Fukushima Report warned, as quoted by the journalist.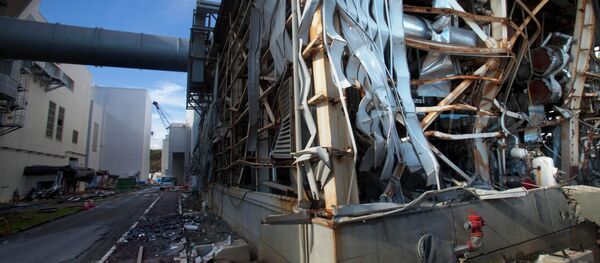 3 September 2015, 13:09 GMT
But that is not all, Hunziker stressed, referring to a worrisome report released by the National Institute of Radiological Science/Japan. The scientists are beating the environmental drum over the "strange growth patterns" of fir trees observed in Fukushima.
About 98 percent of inspected fir trees within a 3.5 km zone surrounding Fukushima's damaged nuclear power stations "have severe defects," the journalist highlighted.
Furthermore,  two hundred US sailors of the USS Reagan which participated in Operation Tomodachi ("Friends"), providing assistance to the infamous prefecture when it was struck by the earthquake and tsunami in March 2011, have filed a lawsuit against TEPCO, General Electric, EBASCO, Toshiba and Hitachi.
"The lawsuit includes claims for illnesses such as leukemia, ulcers, gall bladder removals, brain cancer, brain tumors, testicular cancer, dysfunctional uterine bleeding, thyroid illnesses, stomach ailments and a host of other complaints unusual in such young adults," Hunziker underscored, elaborating that the sailors were most likely affected by radiation.
Inexplicably though, the Fukushima disaster still remains shrouded in secrecy. Moreover, the Abe government's draconian new secrets law allows Japanese bureaucrats to conceal information from public and imprison journalists for "soliciting information that is classified a secret."
It is obvious that Tokyo has something to hide and it must be really big, the journalist stressed, asking rhetorically: "Why else adopt a hard-hitting secrecy law on the heels of the worst disaster to hit Japan since America dropped A-bombs on Hiroshima and Nagasaki in 1945?"