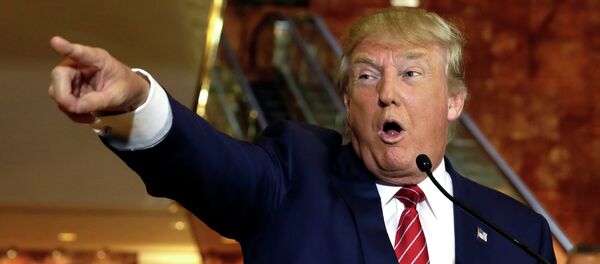 17 September 2015, 02:40 GMT
US presidential hopeful Donald Trump told US television on Saturday that he would love to meet the Russian president, if Vladimir Putin wants to meet with him.
"You know, I've been saying relationship is so important in business, that it's so important in deals, and so important in the country. And if President Obama got along with Putin, that would be a fabulous thing," said Trump in the interview with NBC News.
Trump was asked about the possibility of a meeting after his adviser Michael Cohen shared his opinion with a US radio show that a meeting between the politicians was "better than likely" when Putin attends the UN General Assembly session, which opened on September 15 and will conclude its General Debate on October 6.
"People want to meet Donald Trump. They want to know Donald Trump," said Cohen. 
Trump explained on Saturday that he had been told that a meeting with the president was a possibility.
"And certainly I am open to it. I would love to do that if he wants to do that. I don't know that it's going to take place. I'm not sure. I know that people have been talking."
Trump's appeal for good relations between world leaders was a repeat of an assertion he made during the Republican candidates' debate on Wednesday.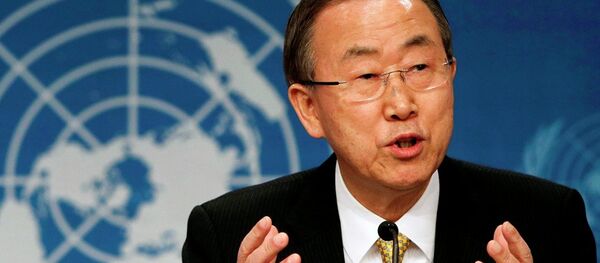 16 September 2015, 18:48 GMT
"I will get along I think with Putin, and I will get along with others and we will have a much more stable world," declared Trump, who leads opinion polls of potential Republican voters.  
At the debate, fellow Republican candidate Rand Paul echoed Trump's call for dialogue with Russia, as well as with Iran and China.
"I don't think we need to be rash, I don't think we need to be reckless, and I think we need to leave lines of communication open," said Paul.
Kremlin spokesman Dmitry Peskov said that he had no information on a possible meeting between President Putin and Trump on the sidelines of the General Assembly.
"The president's schedule for the General Assembly is extremely busy," said Peskov.
"I doubt that there will be a window of opportunity for any other meetings, apart from those which are already planned."
However, Peskov also stressed that the president is open to any contact that would improve relations between Russia and the US.
"The president himself has said on many occasions that he is open to any contact which would enable greater mutual understanding in bilateral relations, and improve the current state of relations between Russia and the US, which could be better."
The Russian president has addressed the General Assembly three times, in 2000, 2003 and 2005. In his last address at the 60th Session, he called for reform of the UN and Security Council in order to more effectively fight the terrorist threat, including the completion of work on an all-encompassing convention on international terrorism. 
On September 13 Russia's Foreign Minister Sergei Lavrov gave details of some of the pressing issues the president wishes to discuss at the assembly, which marks the 70th anniversary of the establishment of the UN.
"President Putin will lay out our judgment of the biggest problems facing the modern world," said Lavrov, which include the importance of multipolar global governance, the fight against terrorism and the fragmentation of the global economic landscape.