KIEV (Sputnik) – The decision to ban flights into Ukraine, including transit flights with military cargoes, concerns all blacklisted Russian airlines, Ukrainian Ministry of Infrastructure spokeswoman Krystina Nikolaeva said Friday.
"We're talking about flights into Ukrainian airports, not transit [flights], but flights into Ukrainian airports. The state aviation service will not grant companies that have fallen under sanctions permission to conduct flights from the beginning of the winter aviation [season from October 25]," Nikolaeva told RIA Novosti.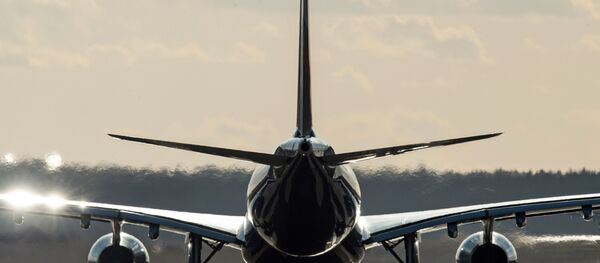 25 September 2015, 17:35 GMT
Earlier in the day, Ukrainian Prime Minister Arseniy Yatsenyuk's government said it had banned Russian airlines, Aeroflot and Transaero among them, from entering Ukraine air space, effective from October 25 as part of its anti-Russian sanctions.
Earlier in September, the Ukraine authorities included 25 Russian airlines and dozens of Russian banks, state TV channels, a number of companies, as well as individuals on its sanctions list.
Ukraine-Russia relations deteriorated following Crimea's reunification with Russia in March 2014 and the escalation of the Ukrainian crisis later that year. Kiev accuses Moscow of interfering in its internal affairs. Russia has continually denied the allegations.