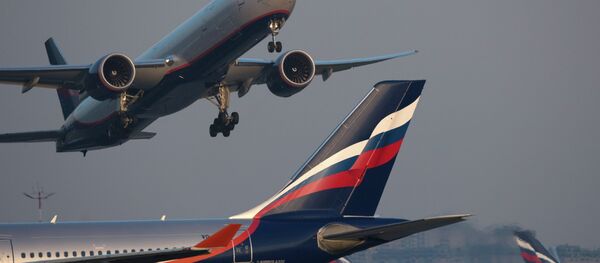 25 September 2015, 11:45 GMT
MOSCOW (Sputnik) — Earlier Friday, Kiev banned Russia's Aeroflot, Transaero airlines from flying to Ukraine.
"Yatsenyuk doesn't have the authority to close airspace. According to international agreements, only aviation authorities from the country can do this," Peskov told reporters.
Peskov said that he is unaware if any Russian airlines had received any formal announcements from the Ukrainian air authorities.
"Of course, closing flights between Russia and Ukraine would be yet another act of craziness but, unfortunately, looking at the last 20 months, we cannot deny this craziness and its hypothetical possibility," Peskov added.
Aeroflot said it has yet to be officially notified of Ukraine's flight ban, vowing to refund passengers the cost of their tickets should it be forced to cancel flights.