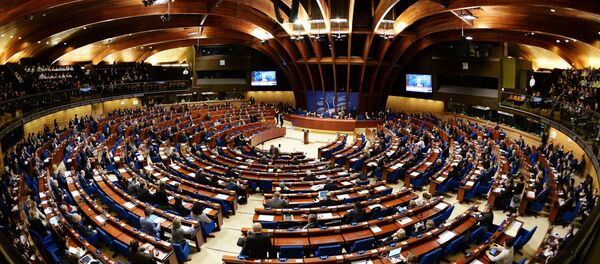 11 September 2015, 18:44 GMT
STRASBOURG (Sputnik)
–
The situation in Ukraine remains vulnerable and the conflict in the country's east needs to stop, the president of the Parliamentary Assembly of the Council of Europe said Monday.
"Ukraine is facing not only the conflict in the east, but also they are facing real challenges concerning the organization and stabilization of their democracy," Anne Brasseur said.
"It is really still very vulnerable and this is the matter of concern to us," she said pinning hopes on the elections.
"We have to make all efforts that violence stops in Ukraine," Brasseur said.
On October 25, Ukrainians are expected to go to the polls to elect governors and legislators. The self-proclaimed Donetsk and Luhansk people's republics have indicated that they will hold separate local elections on October 18 and November 1, respectively.
The Donetsk and Luhansk authorities have explained that the decision to hold local elections was motivated by Kiev's adoption of a new law on local elections, without consulting them, a decision they say contradicts the Minsk peace deal that stipulates constitutional amendments providing more autonomy to the breakaway regions.
According to the latest UN estimates, over 7,800 people have been killed and at least 17,610 have been injured since the beginning of the conflict in eastern Ukraine in April 2014.