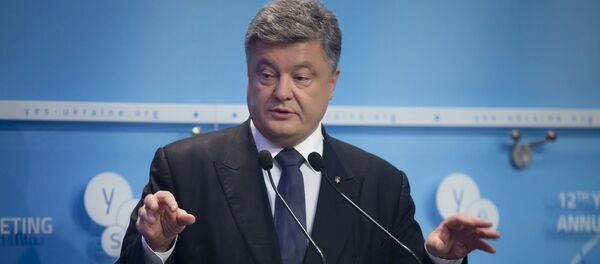 30 September 2015, 00:07 GMT
Residents participating in the protest were holding banners saying "Resignation for Poroshenko" and "Get out, Saakashvili!" (referring to fugitive former Georgian president and current Odessa Governor), Novorossia news agency reported.
Some also held images of those who died in Odessa clashes on May 2, 2014.
Protest participants explained that they were dissatisfied with the current social and economic situation in the city.
"Living standards have significantly dropped in the city. Charges keep rising and we can't live comfortably," said one of the protesters.
The activists also demanded to free journalists Artem Buzila and Elena Glischinskaya who are in custody.
"People were sent to prison for their opinion. This can't be right in the modern world," another activist said. "If we are going to look towards Europe, we gotta change our ways soon."
The protesters also expressed their disapproval of the appointment of the governor for the city and demanded that their opinion be taken into account.
Odessa's worst terror act was the May 2, 2014 Trade Unions House Fire, in which dozens of anti-Kiev protesters were chased into the building before it was set alight.