MOSCOW (Sputnik) — The recent US bombing of a Medicins Sans Frontiers (Doctors Without Borders, or MSF) hospital in Kunduz, Afghanistan, was deliberate, Joe Lombardo, coordinator of the United National Antiwar Coalition (UNAC) non-governmental organization, told Sputnik Tuesday.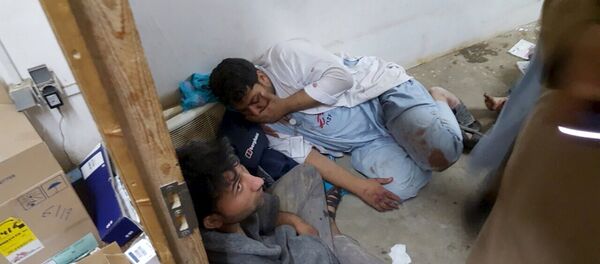 6 October 2015, 19:50 GMT
On Saturday, a hospital in Kunduz, with some 200 people inside, was hit by an hour-long series of US aerial bombing raids, injuring at least 37 and killing 22 people, including 12 MSF staff.
"The US always boasts of the accuracy of its bombs. So this was clearly deliberate. Yes, the US is capable of doing this deliberately," Lombardo said, when asked whether he thinks the attack was deliberate.
US forces have often hit civilian target to try and force people to stop resisting its occupations and policies, Lombardo noted.
"It is a war crime and it should be considered as such," the UNAC added, echoing a statement made earlier by the MSF.
According to Lombardo, the US must withdraw from all foreign territory, where it has over 800 military bases, and stop bombings and military offensives in all countries "for the sake of the people of the world."
According to US Gen. John Campbell, the decision to conduct airstrikes on the hospital was made by US Command and Control.
A US inquiry into the incident has been opened, while the MSF and UN Secretary General Ban Ki-moon have called for an independent investigation into the case.