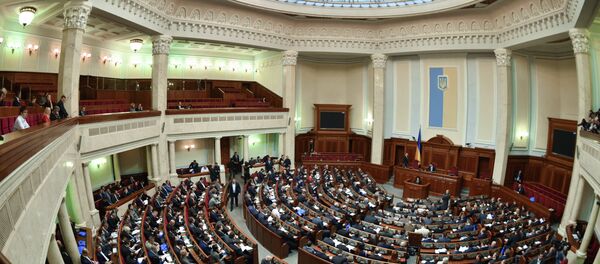 6 October 2015, 08:59 GMT
BRUSSELS (Sputnik) – NATO Secretary General Jens Stoltenberg said Tuesday he sees "hope and momentum" after news that Kiev and the eastern self-proclaimed Lugansk People's Republic began withdrawing tanks and heavy weapons from the line of contact.
"And the ceasefire is holding and is being strengthened. The parties have announced that they will pull back tanks and other weapons from the contact line.  This creates hope and a momentum," Stoltenberg said during a pre-ministerial press conference.
Stoltenberg reiterated that Ukrainian reconciliation remains fragile, though the Normandy Quartet of Russia, Ukraine, Germany, and France continue to push forward on the implementation of the Minsk agreements.
"In Ukraine, the situation remains fragile. But there are also signs of progress. I welcome the renewed efforts made by the leaders of the 'Normandy Format' in Paris to fully implement the Minsk agreements. The understanding to postpone the elections planned by the separatists is a positive step. Any election must be held under Ukrainian law," Stoltenberg added.