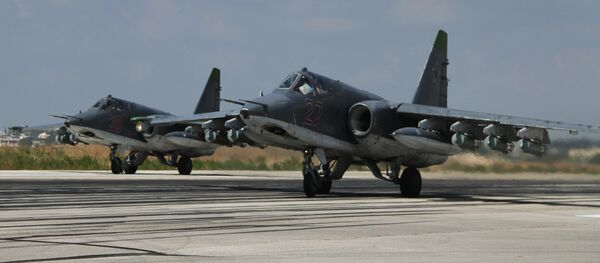 5 October 2015, 20:55 GMT
TEL AVIV (Sputnik)
–
A Russian military delegation led by First Deputy Chief of General Staff Nikolay Bogdanovsky will travel to Tel Aviv on Tuesday to discuss with Israel coordinating possible military action in Syria, a military source said.
"On Tuesday, October 6, Deputy Chief of the Israeli General Staff Yair Golan will meet with his Russian counterpart Nikolay Bogdanovsky. The meeting will take place in Tel Aviv as part of the Russian military delegation's two-day visit to Israel. During the meeting, coordination of actions in the region will be discussed," the source told journalists.
In September, Israel and Russia agreed to protocols intended to coordinate military action in Syria during a visit to Moscow by Israeli Prime Minister Benjamin Netanyahu.
Earlier in October, Netanyahu said in an interview with CNN that Russia and Israel pursue different goals in Syria but this should not endanger relations between the two states.
In the last months, the Israeli Air Force carried out a number of airstrikes on Syrian territory, in what it claimed were retaliations for militant rocket fire and Lebanese Hezbollah group weapon convoy movements.
Russia commenced precision airstrikes on targets of the Islamic State (IS) terrorist group in Syria on September 30, following a request from Syrian President Bashar Assad.
According to the Russian Defense Ministry, airstrikes have done considerable damage to IS command and logistics networks, as well as to infrastructure for suicide bomber preparation.