Russian warships have attacked Islamic State targets in Syria, Russian Defense Minister Sergei Shoigu said Wednesday during a meeting with President Putin.
"Besides using aviation to destroy militants, this morning ships from the Caspian Flotilla were brought in, four destroyers launched 26 Kalibr sea-based cruise missiles at 11 targets," Shoigu told Putin in a meeting televised by Rossiya-1.
All targets were destroyed, Shoigu said. "The fact that we launched high-precision [cruise] missiles from the Caspian Sea at approximately 1,500 kilometers [932 miles] and hit all of the targets says much about the good training in the military-industrial complex and good skills of the staff," he added.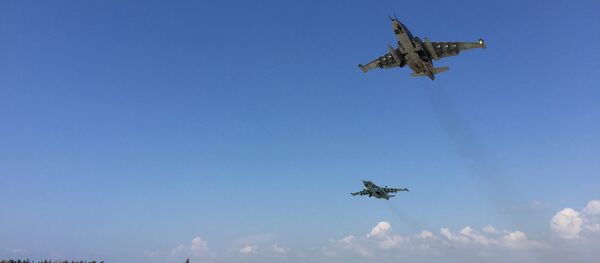 7 October 2015, 04:29 GMT
President Putin expressed his gratitude to the pilots operating in airstrikes against the Islamic State in Syria. "Special thanks is due to the pilots who are operating in Syria, as well as the sailors from the Caspian Flotilla for their use of high-precision weapons," he said.
Putin praised the Russian military operation against ISIL in Syria, but warned against early conclusions. "We know how difficult such anti-terrorism operations are, and, of course, it is too early to draw conclusions. But what has been done so far certainly deserves a highly positive assessment, both the work of the Ministry of Defense as a whole, the work of General Staff experts, and our officers, soldiers operating on the scene," he said.
On September 30, Russia began airstrikes on ISIL in Syria following Syrian President Bashar Assad's request for military assistance.
"From September 30 to this day, airstrikes have been carried out against 112 targets, their intensity is increasing," Defense Minister Shoigu said.
"Twenty-three strike aircraft this morning continued to carry out airstrikes against militant positions. Since the 30th [of September], 19 command controls, 12 arms depots, 71 pieces of hardware, plants and shops for manufacturing explosive devices that are packed in vehicles. Six of these shops have been destroyed," he specified.