MEXICO CITY (Sputnik) – The recent landslide in Guatemala's Santa Catarina Pinula municipality has taken the lives of over 230 people, the country's Public Ministry (Attorney General's Office) said in the latest update.
"8 days after the disaster, prosecutors continue to work in the area. Reporting 237 rescued bodies," the ministry Tweeted on Thursday.
Earlier data said that 220 people had died in the accident, while over 300 remained missing.
The landslide occurred last week on Thursday in a suburb located about 9 miles east of the country's capital Guatemala City. It was triggered by heavy rains in the region.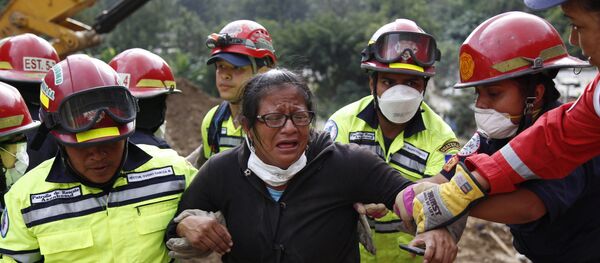 8 October 2015, 01:45 GMT
On Monday, two smaller landslides occurred in the same area and the water level in a nearby river rose by over 3 feet, raising fears of more potential damage.
Guatemala's authorities have admitted the possibility of another landslide occurring at the same site.
Hundreds of rescue workers have been sent to the site to dig out bodies. Over 100 homes were buried under the earth when a hillside collapsed in Santa Catarina Pinula on October 1.
Guatemala's authorities are investigating whether the regional administration bears any responsibility for the accident as it might have issued building permits ignoring the risks of constructing housing in the landslide-prone area.