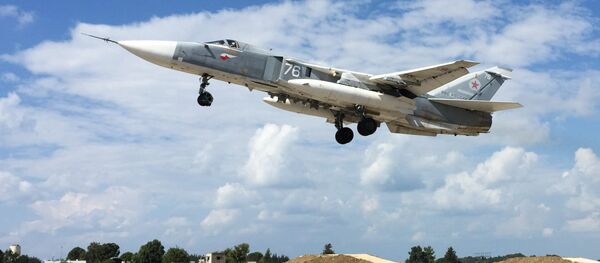 12 October 2015, 16:39 GMT
The events unfolding in Syria have led professional political observers to one grievous conclusion, that the American political elite "is not just supporting terrorists but creating these groups as well, not just recently but, as we will show, 16 years before 9/11," US Marine combat veteran of the Vietnam War and senior editor of Veterans Today Gordon Duff notes.
And these are not some "bizarre conspiracy theories."
"The world increasingly recognizes that America has lost her mind, at least the majority of public figures quoted in the mainstream media. Hillary Clinton wants a no-fly zone over Syria with US jets shooting down Russian planes. Zbigniew Brzezinski wants the US to "disarm" the Russian navy and "arrest" Russian forces in Syria for "resisting" America's plans for conquest," Duff emphasized in his article for New Eastern Outlook.
In addition, Duff noted, there is US Senator John McCain, who is "not only prepared for war with Russia," but has already developed a plan and has even provided terrorists in Syria with weapons which represent a threat to Russian pilots.
"America, or more appropriately Senator John McCain, had already channeled 100 deadly Stinger missiles into the hands of al-Qaeda's worldwide network, a blunder that has raised civil aviation security concerns around the world. A few were used against Syrian helicopters with great success, however the majority have disappeared," the US Marine combat veteran stressed.
However, instead of trying to get these deadly weapons back, "Hanoi John" McCain wants to give Syrian extremists more in order to shoot down Russian warplanes, which are now attacking ISIL and al-Qaeda in the region.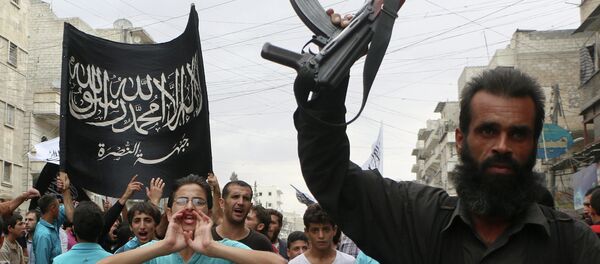 12 October 2015, 15:51 GMT
On October 5, John McCain, a chairman of the Senate Armed Forces Committee, told US media reporters that he believes it would be right to arm the Syrian "rebels" with Stinger missiles "as we [the US] did in Afghanistan."
"I would do as we did in Afghanistan many years ago and give the guys the opportunity to shoot down those [Russian] planes," he said, as quoted by Fox News.
"The problem is that John McCain fulfilled that promise, one he made directly to ISIS [ISIL] commander al-Baghdadi during their 2012 meetings, meetings McCain claimed were inside Syria but were actually outside Hatay, Turkey, hosted by Turkish intelligence. During these meetings, according to intelligence sources, McCain agreed to supply what he calls "his guys," now more commonly known as ISIS [ISIL] and al-Qaeda, 100 Stinger missiles," Duff underscored.
When Russia entered the Syrian war zone, there were already Turkish and Israeli forces which supported "the world's most notorious terrorist organizations," the US Marine combat veteran pointed out, adding that the grim irony of the situation is that US prominent policy makers are now openly calling for arming jihadi thugs.
Doesn't it seem odd that since 2001, there has been no movement, no publication to challenge the official narrative in the United States?
Indeed, even before 9/11 then-US President George W. Bush started to crack down on his political opponents silencing alternative media narrative, Duff reminded.
"This is how the nightmare started and why the runaway cart steered by John McCain and many others has been allowed to ramble on," he highlighted.