MOSCOW (Sputnik) — On Saturday, twin bombs exploded near a railway station in the Turkish capital Ankara ahead of a peaceful anti-war march to protest increasing violence in the Turkey-Kurdish conflict.
The number of victims has climbed to 106, with 20 in critical condition and 69 under treatment, the Turkish Daily Sabah newspaper said on its Twitter account, citing sources from the Turkish Medical Association.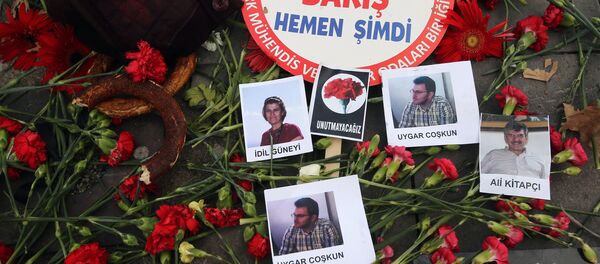 14 October 2015, 13:48 GMT
Earlier on Wednesday, Turkish Prime Minister Ahmet Davutoglu said the suicide bombing attacks could have been carried out by either the Kurdistan Workers' Party (PKK) or the Islamic State (ISIL) jihadist group.
No group has claimed responsibility for the killings.
Tensions in Turkey escalated in mid-summer when the country's government launched a military campaign against PKK in northern Iraq, after the militant group claimed responsibility for the murders of two Turkish police officers said to be aligned with ISIL militants.