CHISINAU (Sputnik) – Thousands gathered in front of the Moldovan parliament in the capital city of Chisinau on Thursday, calling for the country's leadership to resign, a RIA Novosti correspondent reported.
The protests are organized by two political parties, the Party of Socialists of the Republic of Moldova and Our Party.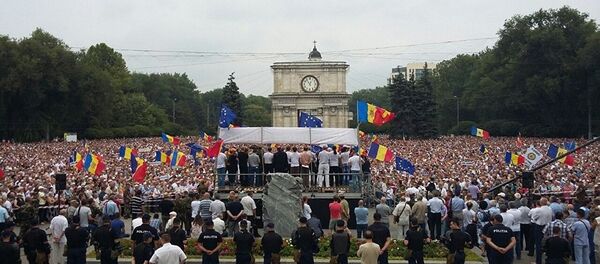 12 October 2015, 16:42 GMT
Columns of protesters met in the center of of the city, where the center-left socialist opposition party set up tents. The opposition factions blocked the exits to the parliament building and intend to keep them blocked until members force the resignation of Speaker Andrian Candu, Prime Minister Valeriu Strelet and President Nicolae Timofti.
Since September, opposition Moldovan parties have been protesting the country's government, calling for early parliamentary elections and prompt action to tackle widespread corruption in the country.
The protests in Moldova were sparked by the disappearance of over $1 billion, the equivalent of about 15 percent of the country's gross domestic product, from three Moldovan banks last year. The incident negatively affected the country's banking system and led to a depreciation of the national currency, the leu.