In July, reports began to surface that US Africa Command (Africom) was operating top secret drone bases out of Somalia. These suspicions were based largely on the testimony of local officials, who reported military activity around the cities of Kismayo and Baledogle.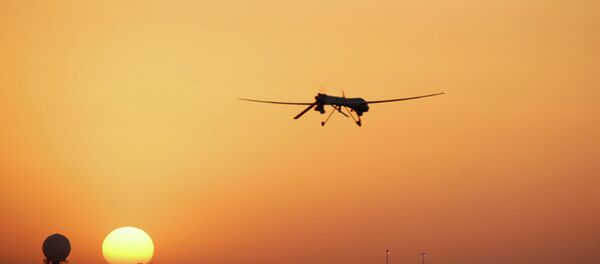 15 October 2015, 20:45 GMT
"They have a base over there," a state minister told Foreign Policy. "They have high tech; they have drones; they have so many things."
As part of the leaked "Drone Papers" unveiled by the Intercept on Thursday, the Pentagon has little room to deny the existence of those bases. But the extent of US drone operation in Africa goes far beyond two cities in Somalia.
The Pentagon also has military outposts in Djibouti, Ethiopia, Kenya, Chad, and Seychelles, all established to broaden America's reach in the "war on terror." The military also maintains personnel on ships in the Indian Ocean as launching pads for drone strikes.
According to the leaked documents, a classified unit known as Task Force 48-4 was based at Camp Lemonnier in Djibouti between January 2011 and the summer of 2012. Operating both manned and unmanned aircraft out of satellite bases, Task Force 48-4 could carry out its covert drone missions.
© The Intercept
Pentagon memo detailing the operations of TF-48-4.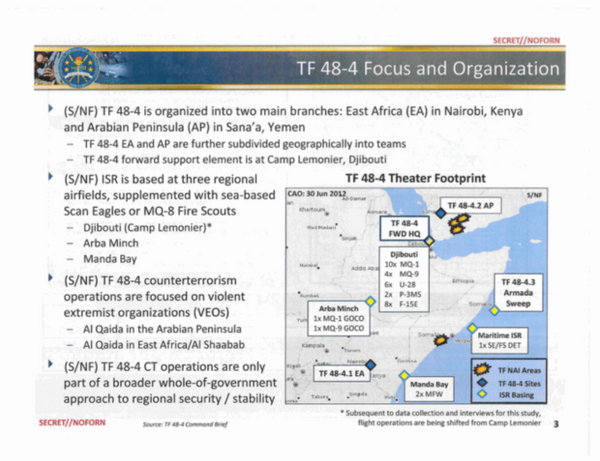 Pentagon memo detailing the operations of TF-48-4.
The variety of installations – some with runways capable of accommodating cargo planes, others more discreet – allowed military officials to keep a number of aircraft stationed in the region. Both Predator and Reaper drones have flown a number of missions, but Africom also operated smaller UAVs and MQ-8 Fire Scouts, remote-controlled helicopters.
Larger bases house manned aircraft, like U-28A surveillance planes, as well as the P-3 Orion. F-15E Strike Eagle fighter jets are also stationed at Camp Lemonnier.
Many of these bases are continuing to expand, even as the Pentagon builds brand new ones across the continent. The National Defense Authorization Act, introduced last April, requests $50 million for construction of an "Airfield and Base Camp at Agadez, Niger…to support operations in western Africa," according to the Intercept.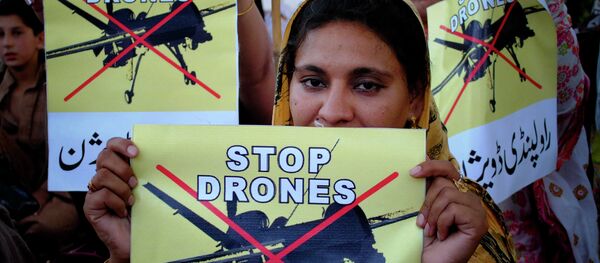 15 October 2015, 18:12 GMT
A number of smaller US outposts have also been built across Africa since 9/11. Too small to house runways, facilities in Burkina Faso, Cameroon, Central African Republic, Gabon, Ghana, Mali, Kenya, South Sudan, Uganda, and Senegal, all serve as forward operating and security locations.
"Due to operational security, I won't be able to give you the exact size and number," Lt. Cmdr. Anthony Falvo, a spokesman for Africom, told the Intercept.
"What I can tell you is that our strategic posture and presence are premised on the concept of a tailored, flexible, light footprint that leverages and supports the posture and presence of partners and is supported by expeditionary infrastructure."
The US has already signed a deal with the Djibouti government to lease Camp Lemonnier through 2044, so it's unlikely that the Pentagon's "light footprint" will be leaving anytime soon.