Early on Sunday morning, officers with the Istanbul Police Department Counterterrorism Unit raided 17 homes. During the operation, authorities detained 50 individuals, all suspected of having links to IS, and 13 suspected of being involved with the bombing in Ankara earlier this month, which left 102 people dead.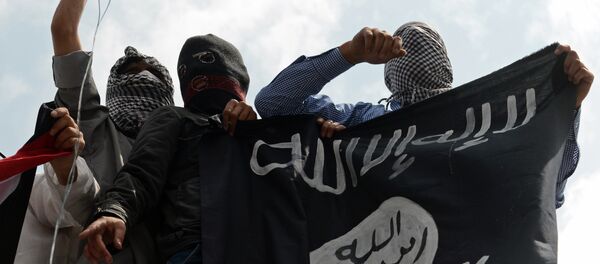 19 October 2015, 12:31 GMT
In conducting that investigation, the IPD Counterterrorism Unit also collected intelligence which allegedly indicates many of those arrested individuals were also involved in brainwashing children.
According to Hurriyet Daily, 24 suspects were using their basement apartments as "militant training camps," where they reportedly "lectured children on the basics of ISIL as well as how to live in an Islamic state."
Most of the suspects arrested over the weekend were of Uzbek origin. In August, an al-Qaeda affiliate known as the Uzbekistan Islamic Movement pledged allegiance to IS, and the nation's intelligence service estimates that over 5,000 Uzbek militants are fighting with the Islamic State terrorist group in Syria.
Ankara has begun cracking down on terrorism following the bombing of October 10. According to Turkey's Chief Public Prosecutor's office, one of the suicide bombers responsible for the incident has been identified.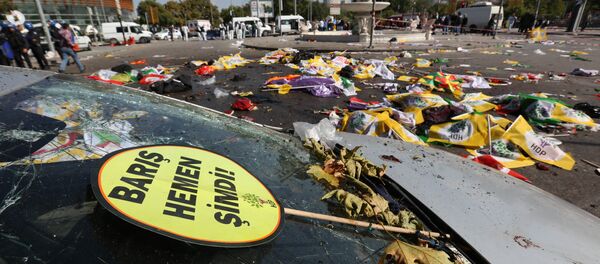 16 October 2015, 17:34 GMT
"One of the perpetrators of the twin Ankara bombings has been identified as Yunus Emre Alagoz," the prosecutor said in a written statement, according to Hurriyet. "The other suicide bomber was confirmed by a photo image and a series of tests have been carried out to identify him or her."
During the raids, police also found large stockpiles of explosive material, including 60 kilograms of TNT, over 1,500 kilograms of ammonium nitrate, and 10 suicide vests.
Over the weekend, authorities also conducted a separate raid against suspected members of the Revolutionary People's Liberation Party-Front.