The town of Baiji, located 200 kilometers (120 miles) to the north of Baghdad, was seized by Takfiri militants in the summer of 2014. However, it was recaptured by Tehran-backed pro-Baghdad forces, led by the Shiite-dominated group Popular Mobilization, following weeks of deadly battles.  As a result of the exhaustive operation, the militants were finally driven out of Baiji on Tuesday. The pro-Baghdad liberators had also recently re-captured one the largest oil refineries in Iraq near the town.
The troops found the graves in a neighborhood called Al-Asri. An army officer promptly confirmed a report of mass graves containing a large number of militants' bodies, but could not state how many bodies there were exactly. It is also uncertain how long the corpses of the fighters had stayed buried in the ground and how Iraqi forces knew they were militants.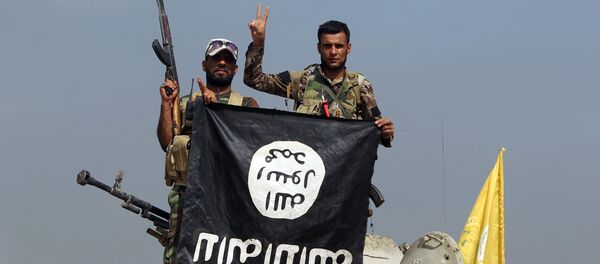 21 October 2015, 14:36 GMT
The recapture of Baiji comes as part of the second phase of an ambitious plan announced earlier by Iraqi Prime Minister Haider al-Abadi. Al-Abadi declared the liberation of towns which had been seized by terrorists since June 2014 in the northern part of Salahudin province the primary goal of the offensive.
In late March, pro-government forces retook the provincial capital of Tikrit after weeks of clashes with militants. The victory in Baiji could be an overture to Iraq's highly-awaited offensive into Mosul, the "snake's head", which has served as the de facto capital of ISIL within Iraq.