CHISINAU (Sputnik) — The Liberal Democratic Party of Moldova joined the protests of the country's civic platform Dignity and Truth (DA), Member of the Moldovan Parliament Tudor Deliu said.
Since early September, DA platform's protesters in Chisinau have been demanding the resignation of the Moldovan government and calling for early parliamentary elections and prompt actions to tackle corruption in the country.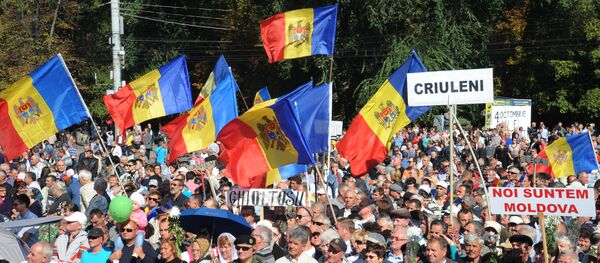 15 October 2015, 13:30 GMT
The DA platform has addressed the claims petitions to the Parliament, however, the Parliament failed to distribute these petitions, thus violating Article 8 of the Law on petitioning. Thereby, parliament members from the Liberal Democratic Party criticized the leadership and joined DA protests.
"We have always tried to convey the demands of the protesters to everyone [in the Parliament], but no one paid attention, that is why we joined the DA platform's protests," Deliu said on Friday.
The protests in Moldova broke out over the biggest known incident of fraud in Moldovan history, namely, the disappearance of over $1 billion, or the equivalent of about 15 percent of the country's gross domestic product (GDP), from three Moldovan banks last year. The incident negatively affected the country's banking system and led to a depreciation of the national currency.