MOSCOW (Sputnik) — On September 30, Russia began launching precision airstrikes against ISIL militant group positions in Syria at the request of President Bashar Assad.
Since the beginning of the aerial campaign, Russian Aerospace Forces have carried out some 934 strikes, killing 819 militants and destroying 363 of command centers and depots used by the terrorists.
"The main task is to hold down the actions of terrorist groups in Syria. Therefore strikes are usually carried out simultaneously in various parts of the Syrian territory," Konashenkov said.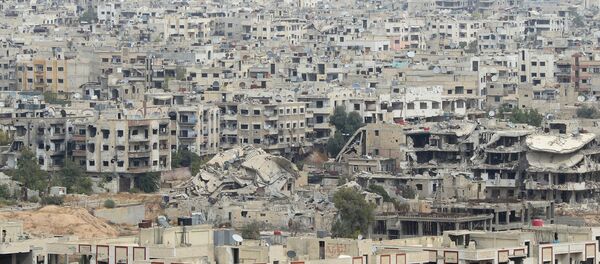 24 October 2015, 11:40 GMT
According to Konashenkov, terrorist command posts, underground bunkers, ammunition and fuel depots are top priority for elimination.
The Russian Defense Ministry spokesman also stressed that strikes are aimed only at confirmed Islamic State's infrastructure positions.
According to the Russian General Staff, militants have begun a retreat due to Russian aviation airstrikes, having lost much of their weaponry and equipment on the contact line with the Syrian troops. Russian intelligence drones have increased sorties to track events.