BERLIN (Sputnik) — German authorities are against the participation of the current Syrian President Bashar Assad in a potential transitional government for the country, German Foreign Ministry spokesman Martin Schaefer said Monday.
"As far as I can tell, in the region there are a lot of players and forces, including Turkey, Saudi Arabia and other Gulf countries, which consider it impossible – as well as we do — that Assad could be part of a transitional government with all powers," Schaefer told reporters.
Syria has been in a civil war since 2011, with the government fighting multiple opposition factions and militant groups, including the Islamic State jihadist group.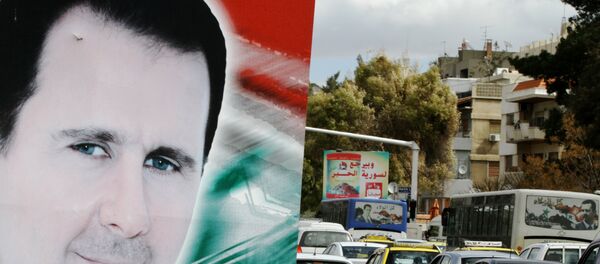 25 October 2015, 09:24 GMT
Since the beginning of the war, the United States and some of its allies supported a so-called moderate Syrian opposition, while urging Assad to resign. Russia recognizes Assad as the legitimate authority in the country, observing that Syrian people are free to choose their leadership without outside intervention.
Moscow hosted two rounds of intra-Syrian peace talks earlier in 2015 in an attempt to foster dialogue between the government and the opposition factions, to ultimately pave a way to a peaceful resolution to the civil war.
Last week, Kremlin spokesman Dmitry Peskov said a political settlement in Syria cannot take place until the terrorist threat in the country is defeated.