Previously, reports that ISIL destroyed ancient columns in the historic complex of Palmyra appeared in media. But now Arab media has said that before the columns were blown up, the terrorists tied up three people onto them.
"If Palmyra stays in the hands of ISIL, we'll witness a large-scale tragedy — we'll lose the heritage of Palmyra. This time, they [ISIL] used ancient columns to execute people. It's both a challenge and the sign of disrespect to the international community," Abdelkarim said.
According to Abdelkarim, the international community shouldn't silently watch the destruction of Palmyra and must start taking actions against ISIL before the terrorists completely destroyed the ancient city, as they turned into ruins another ancient city Mosul in Iraq.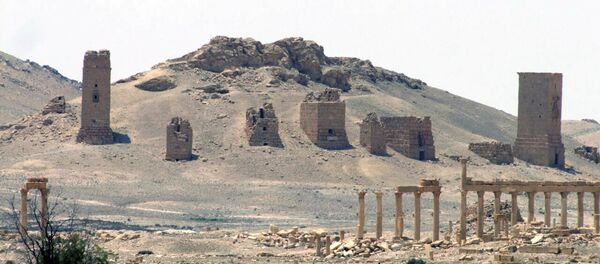 27 October 2015, 08:02 GMT
Palmyra, the city whose ancient ruins of which are included in the UNESCO World Heritage Site list, has been under control of ISIL since May.
The Syrian government evacuated the majority of the local population and removed the most valuable artifacts from museums to prevent their theft, sale or destruction.
The Temple of Bel, the Baalshamin temple and the Arch of Triumph are among the priceless pieces of ancient art which have already been lost. The temples were destroyed in August and the gateway built by the Romans was blown up earlier this month. According to the media outlet, the Arch of Triumph has long been regarded as "the most popular photo spot" in Syria.