Washington infuriated Beijing on Tuesday when it sent its USS Lassen destroyer within 12 nautical miles of artificial islands in a challenge to China's claims in the South China Sea.
The United States said the incident was a routine freedom-of-navigation operation, and vowed to send more ships.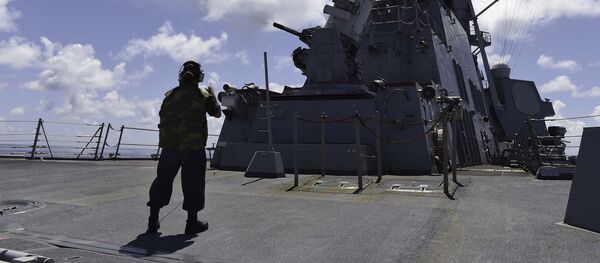 29 October 2015, 08:03 GMT
Washington has refused to recognize China's territorial claims in the region, where Vietnam, Malaysia, the Philippines and others have overlapping claims.
Australia's defense minister, Marise Payne, said after the incident she supported the Americans' right to freedom of navigation under international law, but added that Canberra was not involved in the US action, AFP reported.
On Thursday, a spokesman for Payne said that contrary to reports, two Royal Australian Navy ships would still take part in exercises with their Chinese counterparts off the southeastern Chinese coast near the disputed Spratly Islands.
"HMAS ships Stuart and Arunta will visit Zhanjiang, in Guangdong province, China, soon during their North Asia deployment," the spokesman said in a statement.
The exercises are expected to start in the coming days, although no precise dates were given.
"There have been no changes or delays to the schedule of the HMAS Arunta and HMAS Stuart since the United States activity in the South China Sea on 27 October 2015," the spokesman added.
The dispute between Beijing and Washington has created a challenge for Australia, which must balance its long-standing alliance with the United States alongside its interest in bolstering ties with China, its biggest trading partner and a rising global influence.
The Australian Navy last conducted live-fire naval exercises with China in 2010.